null

White Paper
Telehealth and the Edge of the Network
Infrastructure Considerations for Remote Patient Care
Existing IT systems, infrastructure, security, and privacy protocols already were stretched or outdated due to the proliferation of diversified healthcare systems. Telehealth adds another layer of complexity requiring new IT strategies and investments.
Read our white paper to learn more about the critical decisions that are looming for healthcare IT managers and chief information officers (CIOs).
Download Now
Healthcare Infrastructure Challenges
With patient care increasingly dependent on edge technology, IT downtime becomes more disruptive and more costly — and reliable, well-designed IT infrastructure more valuable.
Growing IT and IoT Networks
Today, healthcare IT not only must support multiple closets across the hospital but an expanding network of urgent care, imaging, outpatient surgery, and other remote facilities, all while data growth and new services increase the demand for compute across the network. One of the drivers of data growth is the healthcare Internet of Things (IoT), which, when supported with reliable infrastructure, can improve patient care and automate workflows. Remote sites need data center-quality infrastructure, while many existing closets need to be upgraded to meet new demands. IT resources managing the growing network are being stretched to the breaking point.
Telehealth Is Here to Stay
Telehealth became a vital tool in enabling providers to manage the disruption of 2020. With benefits to patients and providers alike, it is positioned to play an even bigger role in the future of healthcare delivery. But the makeshift solutions put in place in response to the pandemic won't provide the long-term reliability and scalability needed to grow this capability. As distributed sites evolve into mission-critical patient care hubs, IT infrastructure must evolve as well to deliver higher availability and simpler management.
AI on the Way
The next wave of disruption coming to the healthcare edge will likely include artificial intelligence (AI). AI-enabled decision-making supports faster and more accurate diagnostics. Applying AI to healthcare IoT data can help improve outcomes in a variety of situations, including post-surgical care. Edge computing, and the infrastructure that supports it, brings processing closer to the point of care, providing clinicians with near real-time access to insights.
Vertiv Powers Imaging Equipment
Technology is rapidly transforming healthcare and playing a significant role in improving personal health. Find out how Vertiv Solutions Help Support Healthcare Applications
Robust power backup in the case of unexpected power outages

Extended UPS service life and battery run time

Simplified installation, management, and maintenance

Ensuring crystal clear images is a top priority by maintaining high power quality
Explore More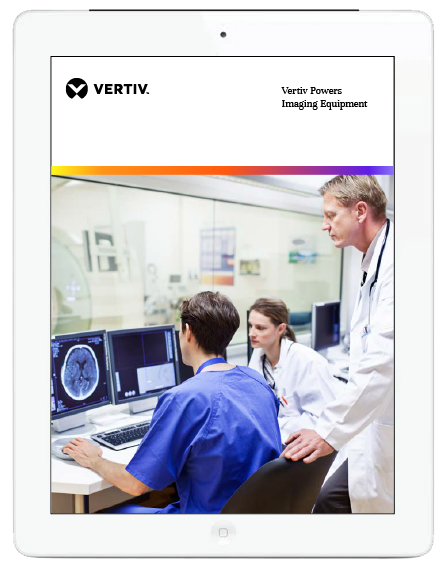 Vertiv Solutions to Healthcare IT Challenges
Products to Support Your Growing Healthcare Network
Customer Case Studies
See how healthcare providers are enhancing continuity and improving service delivery with Vertiv infrastructure solutions.
WEBINAR
Monitoring and Maintaining Healthcare Closets to Support Digitalization and Telehealth
Hear Vertiv experts introduce technologies for enabling remote monitoring of distributed infrastructure in healthcare. Learn more about:
The data available from closet infrastructure systems

Hardware requirements to enable remote monitoring

Integrating closet infrastructure into the building management system

Free software tools available for remote monitoring

Best practices for maintaining distributed IT and closet infrastructure
Watch on Demand
We've Got This. Tell Us About Your Edge
Tell us about your project, and we will work with you to understand your requirements and connect you with the right IT infrastructure for your edge.
Thank you for your submission!
---
Never miss an offer
Join our mailing list to receive the latest product news and industry updates from Vertiv.