null

Server Rack Designed for Rapid Deployment
Rack IT Up
Server racks play a key role in any Edge deployment, whether it is a small IT closet or a full-scale buildout. They should be designed to handle today's needs, while also being flexible enough to scale as your business does.
Our Network Cabinets
Vertiv™ VR Rack
42, 45 and 48U Models

Support for all standard rack-based equipment with 2.5" more usable depth

Quick shipment meets demand for rapid deployment
Buy now
What are Server Racks Used For?
Server Racks are metal structures that are designed to contain critical IT infrastructure including computer servers, uninterruptible power supply, cooling equipment, patch panels, switches, routers, and hubs. Typically, server racks, or network cabinets, are found in massive colocation to small edge data centers and network closets for IT managers to access on-site. The main benefits of these racks include protection of equipment, organization for infrastructure, cable management, security, and productive cooling.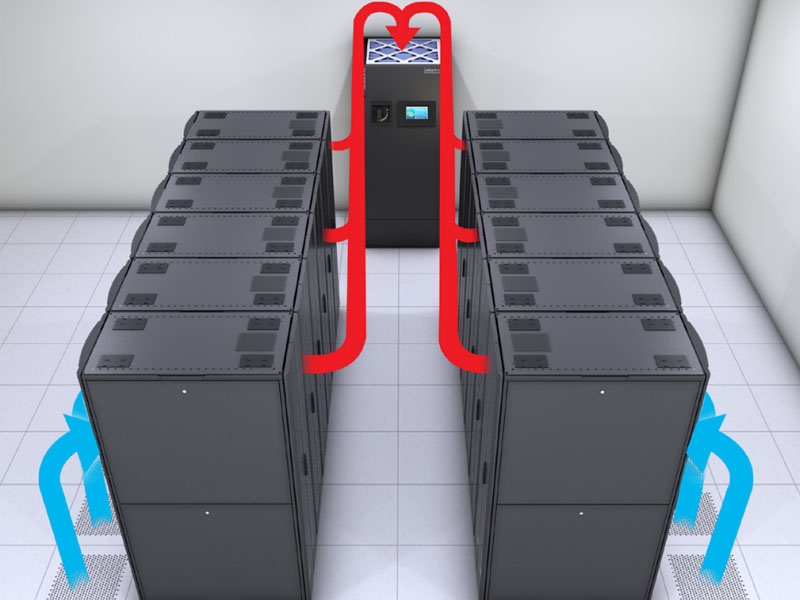 Why is a Server Rack Important?
Server racks remain the backbone of edge computing deployments. IT teams are utilizing network cabinets in different ways as critical infrastructure changes and evolves. High density servers are pushing the limits on facility power and selecting a rack with proper airflow and cable routing could mean extending the life of mission critical equipment.
Interested in learning more? Download this white paper, highlighting the changing role of rack enclosures in today's IT infrastructure.
Selecting a Server Rack
All racks aren't created equal. There are several items you should consider before purchasing. In addition to ensuring the server rack will fit within your space and overall budget, here are a few other features to consider.
USABLE SPACE
As you are looking to deploy a new rack, you should consider how much usable space is available within the rack for reasons like cable management or airflow for equipment.
CONFIGURATION AND FLEXIBILITY
Ensure that the rack you are selecting can adapt as your business does. With a tool-less design, it is easy to configure the rack and adjust as density or equipment changes over time.
RACK DENSITY
Consider how much equipment will be going in the rack, and account for additional space for backup power, remote management devices, and other IT infrastructure. You will want to find a balance of required equipment today and plan for expansion in the future. Your rack(s) should be able to support future growth.
DELIVERABILITY
Whether you are needing a rack to deliver in one week or in a few months, select a vendor that has the capabilities to do both. This will empower you to have flexibility in your Edge deployments based on your business requirements.
Infocrossing Manages Its Dynamic Data Centers with Feature-Rich Vertiv™ VR Rack
With five data centers to maintain, Wipro Infocrossing needed to build in flexibility to support the growing needs of their customers, while also streamlining deployments. Watch as an executive from Infocrossing shares his experience while visiting Vertiv to learn more about the Vertiv™ VR Rack and other infrastructure solutions.
RACK SELECTOR
Quickly Locate the Vertiv™ VR Rack for your Business
Search and purchase directly from one of our reseller partners.
Easy Integration with Critical IT Equipment
Whether you are looking deploying a rack in a single location, or planning out a full facility, pre-integrating rackmount equipment in racks is becoming more common. Our Vertiv VR Racks fit all standard rack-based equipment, here are a few examples:
We've Got This. Tell Us About Your Edge
Tell us about your project, and we will work with you to understand your requirements and connect you with the right IT infrastructure for your edge.
Thank you for your submission!
---
Never miss an offer
Join our mailing list to receive the latest product news and industry updates from Vertiv.