{"IsDifferent":true,"HomePageUrl":null,"PageDoesNotExist":false,"UrlForCurrentLanguage":"/en-us/campaigns/whats-your-edge/remotely-manage-it/","IsStartPage":false,"CountryCode":"PHL","LanguageCode":"en-PH"}

Scalable and Resilient Remote Monitoring and Management for the Future of IT
Remotely Monitor and Manage IT
The expansion and growth of the IT Edge requires complete solutions to monitor and manage it. A complex edge needs flexible building block solutions for a variety of changing market needs and shifts in workload.
Vertiv Digital IT Management
Vertiv™ Avocent® ADX Ecosystem
Management Platform

Rack Manager

Interface modules

Embedded Linux Firmware - Vertiv™ Avocent® Core Insight (ACI)
Request Quote
What Can a Remote Monitoring and Management Ecosystem Do For You?
Simplify management and control of virtual and physical infrastructure across enterprise and edge
Manage and control IT devices
Centralize firmware updates to limit security risk
Manage service processors, virtual machines, IP KVM modules, and remote access appliances
Secure and auditable access to devices for IT operators
Safeguard access to IT devices
Secure KVM and serial sessions
Track detailed user audit history
Control and restrict operations on devices
Improve efficiency when making changes to IT devices
Automate deployment and configuration tasks with APIs
Deploy bulk updates and configurations
Leave No IT Device Behind
Market volatility, fast-changing customer behaviors, and the drive to remote work have all accelerated the race to the network edge and the IT devices and equipment needed to enable success.
By now you are likely trying to remotely monitor and manage a wide array of equipment including:
Production, development and test servers
Non-essential servers
Administrative desktops; storage devices
Networking equipment
Remote rack power distribution units (rPDUs)
Remote uninterruptible power supplies (UPS)
Sensors
Rack door locks
Cameras
and more!!
Don't let the large quantity of devices and equipment overwhelm you! Enable automation, management, monitoring and control of all your IT devices with a singular ecosystem solution.
Introducing the Vertiv™ Avocent® ADX Ecosystem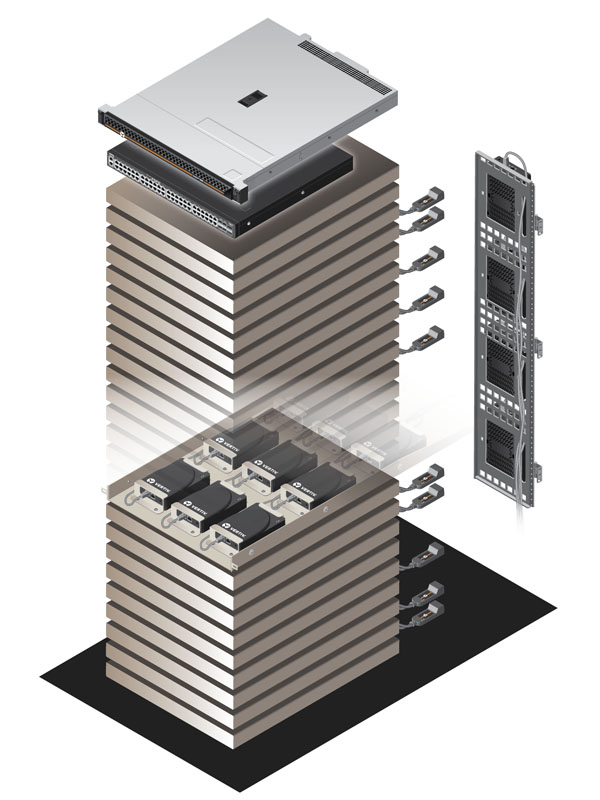 Vertiv™ Avocent® ADX Ecosystem Advantages
Improve Productivity
With the fastest, and most feature-rich digital KVM experience with 4K resolution and 24-bit color, your teams will increase productivity in remote work, remote access, testing and troubleshooting.
Centralized Management
Streamline operations with a common access point to manage KVM, serial, service processors, and virtual machines on a single platform.
Firmware Updates
Simplify firmware updates in larger and small environments with the ability to do bulk firmware updates to IT devices.
Advanced Security
Minimize security exposure through multi-level security for users and devices.
Speed of Deployments
Increase speed of new deployments and configuration tasks with comprehensive open APIs and SDK.
Industries and Applications Adopting Vertiv™ Avocent® ADX Ecosystem
Factories
Validate configurations
Remote troubleshooting
System builds
External customer access
Healthcare
Medical equipment with video ports
Patient room
IT closets
Engineering Labs
Server, laptop, desktop, manufacturers
High-resolution display manufacturers
Gaming devices
Remote Working
Teleworking
Employees with desktops
Developers
Auditors
IT staff
GET UNIFIED CONTROL NOW
Quickly gain visibility and management of your IT ecosystem.
We've Got This. Tell Us About Your Edge
Tell us about your project, and we will work with you to understand your requirements and connect you with the right IT infrastructure for your edge.
Thank you for your submission!
---
Never miss an offer
Join our mailing list to receive the latest product news and industry updates from Vertiv.