Industry veteran brings history of channel success to revamped Vertiv channel
Columbus, Ohio [Oct. 12, 2020] – Vertiv (NYSE: VRT), a global provider of critical digital infrastructure and continuity solutions, today announced the appointment of 25-year industry veteran Peter Klanian as vice president for the Vertiv Americas channel. Klanian joined Vertiv earlier this year after spending 13 years with Dell and 12 years at APC. While at APC he launched their channel program and acted as Channel Chief.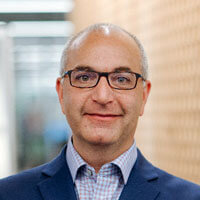 Since joining Vertiv, Klanian has led a significant investment in channel, re-focusing Vertiv sales teams on driving new revenue opportunities with partners. He has prioritized recruitment and development of resellers and spearheaded development of innovative, easy-to-use tools to streamline project configuration, including a new partner portal launched just last week.
"Pete brings tremendous experience in the IT channel and has wasted no time building up our focus on the reseller community," said John Hewitt, president of the Americas business for Vertiv. "Our Liebert, Geist and Avocent products have long been the standard-bearers in sophisticated solutions for small and medium-sized businesses and smaller IT spaces, and Pete is leveraging that strength to benefit of our channel partners and our mutual customers."
"At Vertiv, we have the industry's best and broadest portfolio of power, cooling, and remote access solutions for the channel," Klanian said. "Our #1 priority is to help partners provide a stable, manageable foundation for the advanced technologies they provide to their customers. We're already experiencing some great success with our partners, which is allowing us to invest even more in this area."
Recent Vertiv data center and edge infrastructure innovations, available through channel partners, include the Vertiv™ Liebert® PSI5 Lithium-Ion UPS system, Vertiv™ Geist™ Combination Outlet C13/C19 rack power distribution unit (rPDU), Vertiv™ Environet™ Alert monitoring software for edge applications, Vertiv™ Avocent® ACS 8000 console server and the Vertiv® VRC-S micro data center rack solution.
Tomorrow, as part of Vertiv's annual Partner Summit, Klanian will join Hewitt, Vertiv CEO Rob Johnson, and Vertiv VP of integrated rack solutions, Martin Olsen, for a panel discussion on accelerating innovation in the channel.
More information on the Vertiv Partner Program and Vertiv solutions is available at Partners.Vertiv.com.
About Vertiv
Vertiv (NYSE: VRT) brings together hardware, software, analytics and ongoing services to ensure its customers' vital applications run continuously, perform optimally and grow with their business needs. As Architects of Continuity™, Vertiv solves the most important challenges facing today's data centers, communication networks and commercial and industrial facilities with a portfolio of power, cooling and IT infrastructure solutions and services that extends from the cloud to the edge of the network. Headquartered in Columbus, Ohio, USA, Vertiv employs approximately 20,000 people and does business in more than 130 countries. For more information, and for the latest news and content from Vertiv, visit Vertiv.com.
CONTACT
Sara Steindorf
T +314-982-1725
E sara.steindorf@fleishman.com
---