The Vertiv Services team is a point of pride for us, and it's easy to understand why. Our Services team is one the world's largest and most geographically diverse, with 3,000 field service engineers, 400 technical support team members, excellent response times and stringent data center safety protocols.
It's difficult to do the Vertiv Services story justice, because words and stats do not accurately paint the picture of our people. To bring our story to life, here are just a few members sharing some of their experiences.


Ken Strayer: Fabricating a Third-Party Product Onsite to Make a Client Deadline

Video of a Vertiv customer engineer describing the data center services team making an alternate plan on a PDU start-up.

Position: AC Power Project Leader
Time with Vertiv: 13 years
Background: Electronics technician on submarines for the U.S. Navy
Territory: Ashburn, Virginia, District
Summary: The data center services team was working on a customer's large PDU start-up, and supply chain issues prevented another vendor from supplying circuit breakers in the required timeframe. So the team made an alternate plan, working with the local Vertiv personnel, to bypass the main input circuit breaker on a PDU. They contacted Vertiv engineering, who supplied them with specifications and drawings for input bus bars, which the team had manufactured locally. Onsite, Vertiv CEs were able to drill, prepare, and mount the bus bars in the equipment so they could get the PDUs installed in time to meet the customer's deadline. Ken shares the details.


Oscar Hernandez: A Team Effort to Get to the Heart of the Problem

Video sharing an example of Vertiv IT infrastructure Services working as a team to solve a customer issue.

Position: Field Service Technician
Time with Vertiv: 2.5 years
Background: Firearms instructor, missile technician for the U. S. Navy
Territory: Southern California
Summary: In this video, Oscar Hernandez talks about getting to the root of the problem for a large distribution center in Southern California after a third-party service provider dropped a load while they were trying to diagnose why a UPS was in alarm. Together, the Vertiv technicians onsite accessed the UPS logs, and Vertiv Tech Support looked back and helped determine that the UPS alarm states were coinciding with very windy days. The team suggested the customer have their generator ready to go when high winds were forecasted, and this solved the problem.


Trainer Nathan Keebaugh Talks Training Data Center Safety
Position: Senior Technical Training Instructor
Time with Vertiv: 4 Years
Background: Customer service engineer at Vertiv; nuclear reactor operator, reactor technician, and network administrator for the U.S. Navy

Extensive Training Regimen: Every new hire in a Customer Engineer (CE) role in AC power gets enrolled in a 16-week program, and since data center safety is at the core of the program, it starts with an electrical safety course. Next, they move to the battery course, and from there they cover 11 different uninterruptible power supply units (UPS and about five different power distribution units (PDUs) from the Vertiv portfolio. That training program is a blend of online training and live, virtual training via Microsoft TEAMS.
The final stage is a 4-5 day "residential" study, where they travel to the Vertiv Academy for hands-on training and practice and perform services on products.
On average, new CEs come back to do a training course on a different product every 4-6 weeks, depending on the makeup of the team in their region.
After the first couple years, CEs move on to virtual trainings. For example, the AC Power Hour is offered twice monthly – where the power technical support team covers topics based on calls that commonly come in from the field.
Data Center Safety Always Comes First: Personal protective equipment (PPE) is an important part of providing services and, therefore, an important part of training. Nathan graciously demonstrated the PPE for various situations to ensure data center safety.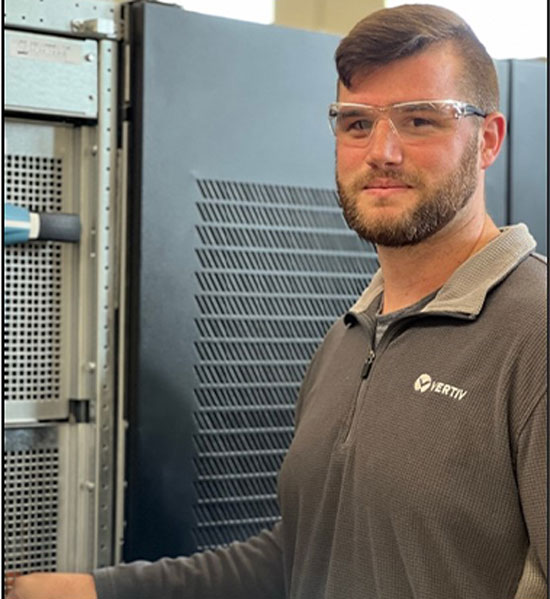 Base layer personal protective equipment for Vertiv Customer Service Engineers

Base Layer – standard attire worn every day. Includes long pants, long-sleeve shirt, safety glasses or goggles, and composite-toe, leather footwear.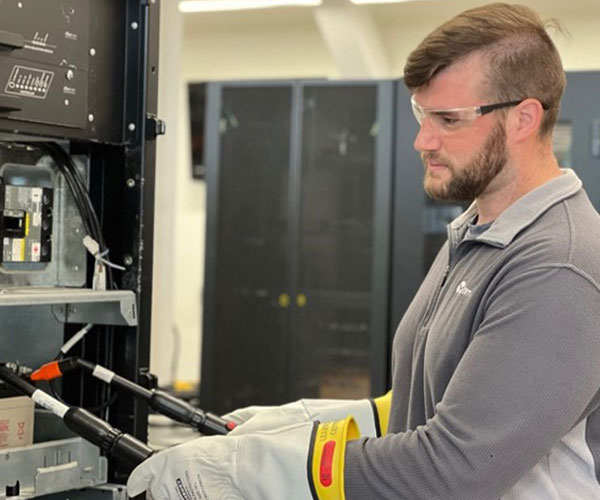 Base layer plus PPE for the Vertiv Services team


Base Layer Plus – Includes base layer, insulating (rubber) gloves and leather gloves. Worn to protect from shock when working on an internal repair when the equipment voltage does not call for Category 2 or 4 protection. While not pictured here, hearing protection and a hard hat is also added to the base layer as needed.



Chemical PPE for Vertiv Services Customer Engineers


Chemical PPE – Includes base layer, rubber gloves, leather gloves, safety goggles, a chemical face shield and a chemical-resistant apron. Worn when working with batteries.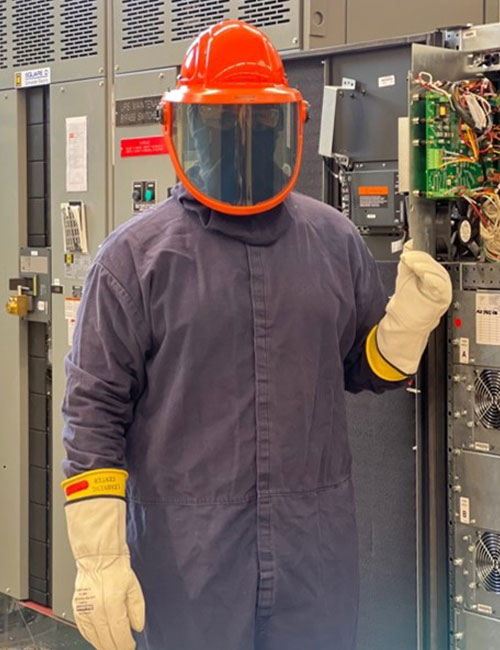 Arc Flash PPE Category 2 for Vertiv Services Customer Engineers


Arc Flash PPE Category 2: Base layer, hearing protection, rubber gloves, leather gloves, hard hat, arc-rated coveralls (12/cal/cm2), 12 cal/cm2 arc-flash hood or arc-rated face shield and arc-rated balaclava. Worn when voltage is higher than when only the base layer and gloves are required, but lower than when a full arc flash suit is needed.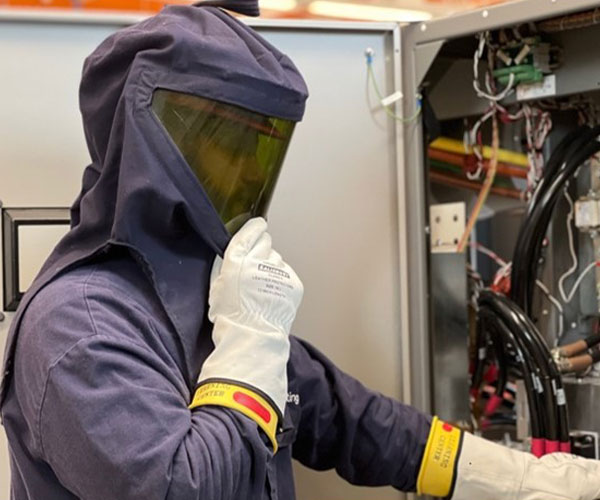 Arc Flash PPR Category 4 for Vertiv Services Customer Engineers


Arc Flash PPE Category 4: Base layer, hearing protection, rubber gloves, leather gloves, hard hat, arc-rated coveralls (minimum 40 cal/cm2), arc flash rated hood (minimum 40 cal/cm2). Worn for working inside equipment with the highest voltage.
How can Vertiv Services Help You?
To see how Thermal Management Services can help your facilities, request to be contacted by your local expert.
---