Product Family
Liebert® RX Distribution Cabinet
The compact Vertiv™ Liebert® RX cabinet is available with panelboard level or branch circuit level monitoring, and can be used in 1 - 4 unit space-saving configuration blocks.
Product Family
Liebert® RX Distribution Cabinet
The compact Vertiv™ Liebert® RX cabinet is available with panelboard level or branch circuit level monitoring, and can be used in 1 - 4 unit space-saving configuration blocks.
Best Suited For:
Banking, Financial and Insurance
Data Center/Colocation/Hosting
Education
Government
Healthcare
Retail and Wholesale
Warranty: One Year Limited Warranty Against Defects in Material and Workmanship
The Liebert® RX remote power distribution cabinet supplies packaged power distribution in the smallest possible footprint, with 400 Amp and 84 poles in one panelboard, and only requiring 24"x12" of space. It offers monitoring options and multiple configuration possibilities to fit the needs of most data centers. Liebert® RX is available in 400A, 84 pole models, with options for panelboard level or branch circuit level monitoring. The compact cabinet may be used in a stand-alone configuration, or may be clustered in space-saving 2, 3 or 4 unit configuration blocks.
Model Specifications Overview
Liebert RX 400 Amp Distribution Cabinet

400 Amps

120 - 480 Volts

120 - 480 Volts

Hard Wired

78.7 in

24 in

13 in

225 lbs

See more product information
Benefits
Smallest footprint 84 pole power distribution unit
Multiple configuration options allow optimization of data center space – two, three or four units may be installed in space-saving clusters.
Fits standard raised-floor tile, while permitting removal of adjacent floor tiles.
The 400A continuous current rated main circuit breaker better coordinates with today's 30A and 60A branch breakers than smaller 225A mains, providing better selective tripping.
Each panelboard is totally isolated – any potential arc flash is contained within the cabinet when installed back-to-back and each is receiving a separate feed from a dual bus system.
Wide open access channels provide six inches of access space, and individual hinged covers, allowing easy addition of future circuits.
Compact cabinet conserves valuable floor space
Packaged system is easy to install, maintain and add additional circuits.
Features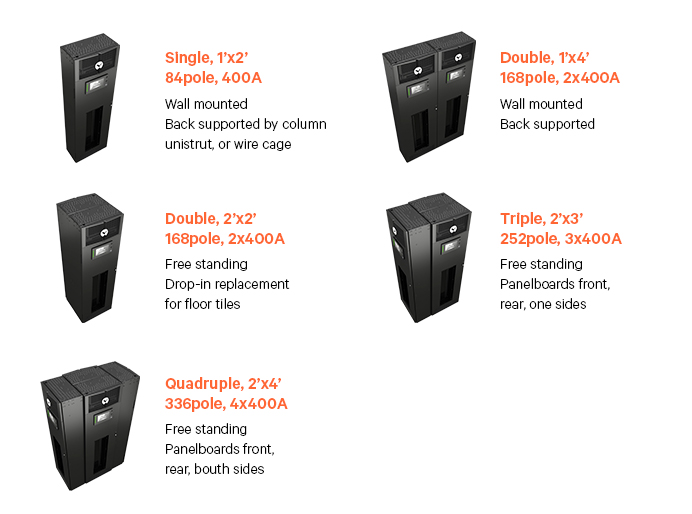 84 poles in a 24"x12" footprint
Up to 168 poles in a 24"x24" footprint.
Offers current and branch circuit monitoring options
Floor or wall mount, or attach to supports at end of rack aisle.
Installs with tool-less mounting to Vertiv DCM Racks.
Allows configuration as a single unit, or two, three or four cabinet clusters
*To see model-specific downloads, you will need to go to the model-specific product page by selecting the model name in the specifications chart above.
Find Your Area Contact
Products Support Contacts
USA
51
20149
Showing contacts for

Virginia,

20149,

USA
Change
Geist Support - Americas (Rack PDU and Watchdog)
1777 Yolande Avenue
Lincoln Nebraska
USA
Product areas of focus:
Power Distribution, Monitoring
Vertiv (Customer Service for DC Power Systems & Outdoor Enclosures)
Product areas of focus:
DC Power Systems, Power Distribution, Outdoor Enclosures
Vertiv (Liebert Services)
610 Executive Campus Drive
Westerville Ohio 43082
USA
Product areas of focus:
Uninterruptible Power Supplies (UPS), Power Distribution, Thermal Management, Integrated Solutions, Racks and Containment
Frequently Asked Questions
Q

How many RXs can fit into a standard data center floor tile space?
A

Up to 2 RXs can fit. Please see the sales brochure or technical specs for more information, or click on Specifications above for more technical data.
Q

Can circuits be added without powering the unit down?
A

OSHA defines safety procedures for energized equipment. You may also have local codes or standards to follow. Beware of competitors who state without details that it is okay to work on energized equipment.
Q

Can the product be customized?
A

There are many custom solutions available for our products. Please contact your local sales office for more information.