Recently we held a very informative online debate concerning energy efficiency and its impact on today's critical infrastructure, on LinkedIn, with Vijay Chouhan, Energy and Sustainability Manager at Telefónica UK (O2) and Paul Eggleton, Director of FourCornerGlobal and founding-member of the Energy Managers Association.
An interesting result of an online poll carried out before the event showed that new cooling technologies can bring the most efficiencies in the short-term, but smart energy will be the next big thing. And smart metering, monitoring and controls are equally important, underpinning our day-to-day operations in the data center and telecoms network to ensure availability, utilization and efficiency. 'What cannot be measured, cannot be managed or improved', said the wise man.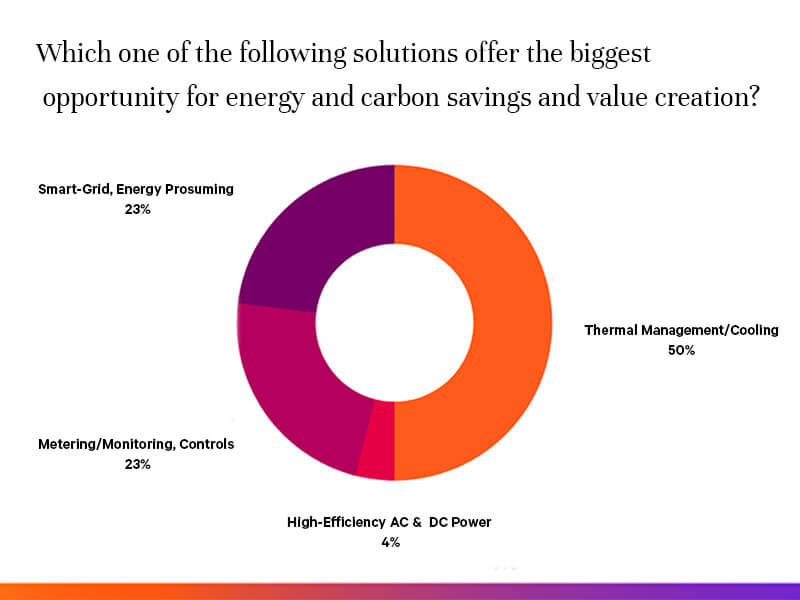 The First Step Towards a Cognitive Infrastructure: Smart Energy Analytics
We already have energy analytics as a mandatory tool in most of Vertiv's projects. Without measuring the present mode of operation in deep detail by extracting value from big data and creating intuitive and powerful interactive dashboards that can lead to actionable insights, we barely get started these days.
Even traditional areas like power and cooling are heavily relying on software and data to function. Dynamic controls can learn and define the behaviour of what we are now calling 'cognitive infrastructure'.
Our systems can now learn and predict the best way to move electrons and cold air, at the right humidity levels, speed and pressure, to achieve maximum IT performance over time. Liquid cooling is another important area and should not be ignored, as innovations like immersion cooling are becoming practical and viable.
These technologies are achieving much better results than trained personnel, even if they were to monitor equipment 24/7, tweaking the equipment and room temperatures. So even a team of properly trained experts would lose the battle against these intelligent automated machines and devices.
The Role of AI in Cognitive Infrastructure Starts with Smart Energy, and It Doesn't Stop There
Artificial Intelligence is here to stay and it will boost digital infrastructure operators' energy and carbon efficiency strategies and improve many other areas, directly and indirectly.
An important example is related to predictive maintenance strategies, going above and beyond reactive, preventive and proactive maintenance. This means that the operator now knows the exact timing and procedure to sweat their assets and minimize risks and downtime. Anticipating physical behaviours and predicting end of life for different pieces of kit can be a powerful decision instrument when it comes to keeping the lights on and the internet running.
When it comes to smart energy, or energy 'prosuming' (energy consumers are also producers now), we see the key role that renewable energy sources play, especially solar and wind power, as well as the other key piece of the puzzle, called energy storage.
Hourly energy prices are starting to become available online in some countries, allowing market players to leverage new strategies. Take the classic use case of charging the electric car during the night and driving during the day, apart from optimizing resource consumption, these innovations also help to stabilize the power grid in a new era of multiple energy sources, types and uses.
Conclusion
Rationalizing the way we consume planet Earth's resources is a must, and we need to act now. We can already combine powerful hardware, software and services to improve and advance our critical infrastructure, to make it fit for the future and boost the circular economy. Coming generations will be thankful. Feel free to contact me to see how we can help you boost the energy efficiency within your critical infrastructure.
You can still be part of the energy debate! Listen to Telefónica share their best practices to improve energy efficiency in order to reach their ambitious sustainability targets, watch the recording here.
---