Over the years, the expansion of IT and numerous technologies in medical imaging scanners has enabled the evolution of powerful new devices used for diagnostics and interventional radiology. The information generated by these products can help with early detection and treatment of numerous diseases, including heart, neurological, and orthopedic conditions as well as many cancers, resulting in significant improvements in patient care.
These technologies, along with the onset of interoperability and telehealth, create the need for an architecture that integrates imaging systems, or modalities, with other devices that enables Picture Archiving and Communication System (PACS) to store generated images—either in dedicated local servers or a cloud platform— and make them available to physicians anytime, anywhere, for diagnosis and treatment. Today, healthcare organizations are building resilient networks designed to support all the relevant, connected systems, essentially creating 'digital hospitals', that include: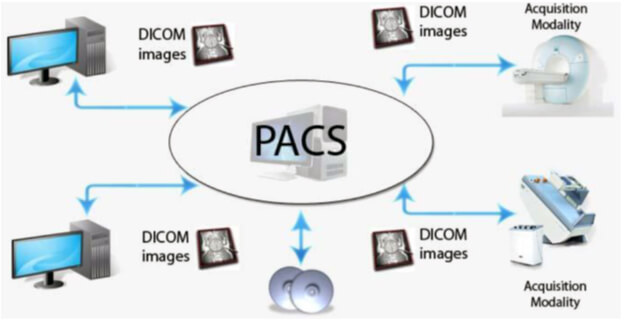 Picture Archiving and Communications Systems (PACS) that stores generated images and makes them available to physicians for diagnosis and treatment.
Radiology Information Systems (RIS) and Hospital Information Systems (HIS), that not only monitor and manage the workflow of radiology departments, but entire hospitals — from patient check-in to scheduling, billing and generating electronic medical records and management reporting.
Computed Radiography, which converts films to digital images.
Digital Radiography, which provides digital images.
Laser printers and other peripherals, which prints films when required
A typical medical imaging and diagnostic equipment network, which runs over Local Area Networks, Wireless Networks, or Wide Area Networks, is illustrated in the picture below:


Digital transformation and increasingly complex networks present key challenges.
As hospital systems become more complex and integrated, healthcare IT organizations are faced with several significant challenges, each of which put additional demands on IT infrastructure that is often already stressed. Specific challenges include:
Ensuring the compliance of the network and all of its components with multiple regulatory standards. These include DICOM, Health Language Seven (HL7), the International Organization for Standardization (ISO), the International Electrotechnical Commission (IEC), and the Body of European Regulators for Electronic Communications (BEREC), to name just a few. Relevant national applicable codes must also be considered.


Handling the influx of additional data while supporting ever more new technologies. Depending on the patient's disease, physicians can use different modalities for diagnosis and treatment. For example, an X-Ray or CT may be used for orthopedics, while ECG or MRI is often used with cardiology patients. The images created by the scanners can be easily sent to specialized physicians to get an in-depth evaluation and diagnosis.

Today, hospitals store hundreds of millions of digital images created by MRIs and CTs, which are becoming better at capturing thinner and thinner slices of the body (50 petabytes of data per year [1]). Indeed, almost 90 percent of all healthcare data comes from medical imaging. There is simply no way humans can turn that much data into useful information, and more than 97 percent of it goes unanalyzed or unused. As a result, healthcare organizations are beginning to use artificial intelligence (AI) to identify issues and detect complex relationships and patterns in the images. The high volume of data necessary to facilitate AI analysis may result in billions of parameters that need to be optimized during the training phase, increasing the computing needed for analysis. This, in turn, increases the need for a stable and reliable electrical power source.


Enabling the delivery of diagnostic images anytime, anywhere. PACS need to be available on demand for physicians and specialist surgeons, providing the latest imaging data of the patient under treatment. There is little, if any, tolerance for downtime. Rather, the expectation is that data distribution will be even faster, easier, and more reliable to support the best possible patient care. IT plays a crucial role in this scenario and, consequently, the continuity of power becomes paramount. The physical infrastructure supporting integrated HIS, RIS, PACS, and other various modalities must be reliable, scalable, highly available, and manageable.
Establishing robust infrastructure to support digital systems and networks.
The core of the PACS is made up of storage and server clusters, housed in racks, computers, or data center environments. Typically, PACS need less than 10 kVA, single-phase AC power at 120/208 or 230 VAC. Since the server clusters are contained within rack enclosures, handling their heat dissipation within the racks often becomes a challenge.
Power:
PACS and the connected HIS and RIS systems should be protected with an N+1 redundant Uninterruptible Power Supply (UPS) system with battery backup and automatic and manual bypass. These systems require a higher redundancy and availability than most other equipment, generally 99.999%, which translates into an average unplanned downtime of 5 minutes per year or less. The power solutions, which may also include Power Distribution Units (PDUs) and isolation transformers and backup generators, provide uninterrupted, clean power to critical loads, helping to protect hardware and software from malfunctioning while enabling smooth shutdowns and rebooting operations if necessary to prevent system crashes.
Additional infrastructure components:
Beyond the power system, a reliable infrastructure architecture includes:
Precision cooling systems that ensure proper environmental conditions by adjusting and monitoring temperature and humidity; the same redundancy afforded the UPS can be extended to the precision air conditioning units to ensure the highest levels of availability
Racks that house the critical network equipment like servers, switches, and routers, which host critical hospital applications
Physical security and fire protection systems
Cabling to interconnect equipment
Management systems to monitor and manage the infrastructure, both locally and remotely, to ensure continuous operation
Technical services to install, commission and maintain the systems
Learn more about how to enable a reliable "digital hospital."
Innovative technologies such as PACS are helping to significantly increase the quality and speed of diagnosis. When connected to other information systems such as HIS and RIS, they provide information that saves lives, minimizes human errors, and reduces costs. In order for these systems to deliver on their promise, healthcare organizations must rethink their IT infrastructures and ensure they have the proper solutions in place to facilitate 100% availability.
Download the new Vertiv whitepaper, Enabling Reliable Digital Hospitals, for an in-depth look at the various systems, including PACS, that must be supported today. The paper also includes detailed technical recommendations for improving overall system reliability and availability while minimizing total cost of ownership.
[1] research and analysis from IDC
---