Liebert® ITA2 UPS provides rack-mountable three-phase power for small IT spaces
Columbus, Ohio [Jan. 30 2018] – Vertiv, formerly Emerson Network Power, today introduced the Liebert® ITA2, a compact, three-phase, 8 and 10kVA uninterruptible power supply (UPS) system designed for local and remote IT deployments at the edge of the network. The latest addition to the Vertiv UPS portfolio gives customers a powerful, efficient battery backup solution with three-phase input and output for 208/220V IT requirements. The system is available in various models globally and through Vertiv channel partners.
The Liebert ITA2 is a true on-line UPS that can be used in rackmount or tower arrangements, with a compact design allowing easy installation and flexible placement in the tight spaces typical of edge deployments. Three-phase input allows users to utilize a building's existing electrical architectures more effectively, with a power factor of up to 1.0 helping the UPS maximize rated power to the IT systems. The Liebert ITA2 saves utility costs by operating at over 93 percent efficiency in dual conversion mode and up to 99 percent in eco-mode. Intelligent network communications and monitoring is provided via a Vertiv Unity communications card.
"We hear from customers a lot about their challenges at the edge of the network and with good reason. These are increasingly critical sites, and reliable power protection in these locations is non-negotiable," said Kyle Keeper, vice president, AC power product management for Vertiv in the Americas. "The Liebert ITA2 delivers reliable, efficient three-phase power protection in a compact, flexible system that is easy to install and manage and fits the growing demands of these critical IT processing spaces."
The Liebert ITA2 has scalable battery capacity, with optional battery cabinets that can be configured to meet a variety of runtime requirements. An optional rack-mountable maintenance bypass cabinet ensures IT systems are protected during routine service or maintenance and includes flexible power output distribution options to meet variable power loads. The UPS is engineered to accept a wide input voltage range to extend battery life.
Users can leverage the advantages offered through Vertiv services, including the Power Assurance Package, which provides a five-year life cycle protection plan with LIFE™ Services, remote oversight and proactive support. For more information on the Liebert ITA2 and other UPS solutions from Vertiv, visit www.VertivCo.com.
About Vertiv
Vertiv designs, builds and services critical infrastructure that enables vital applications for data centers, communication networks and commercial and industrial facilities. Formerly Emerson Network Power, Vertiv supports today's growing mobile and cloud computing markets with a portfolio of power, thermal and infrastructure management solutions including the Chloride®, Liebert®, NetSure™ and Trellis™ brands. Sales in fiscal 2016 were $4.4 billion. For more information, visit VertivCo.com.
CONTACT:
Vince McMorrow
T +614 383 1622
E Vince.McMorrow@Fahlgren.com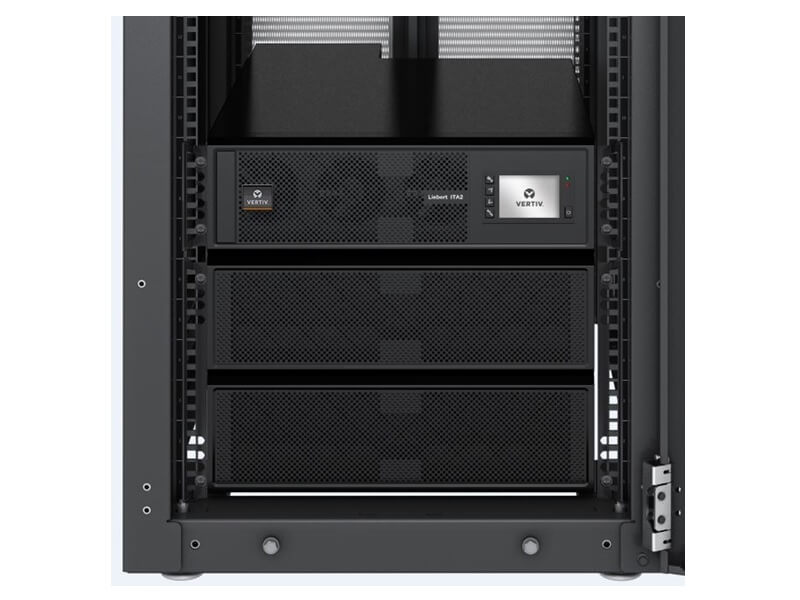 ---