null

Home
Get Your IT Infrastructure Ready for the Healthcare Digital Transformation
Get Your IT Infrastructure Ready for the Healthcare Digital Transformation
May 01, 2019
Free IT Infrastructure Planning Whitepaper for Healthcare IT Professionals
What you will learn from this whitepaper:
As medical imaging technology continues to evolve, hospitals are increasingly looking to integrate imaging equipment with their various information systems. Enabling this process demands robust, scalable, and intelligent infrastructure capable of supporting system and equipment availability while ensuring ongoing regulatory compliance.
This 12-page whitepaper outlines the evolution of DICOM and the connected medical imaging and diagnostic equipment network. It discusses the physical infrastructure components needed to support digital transformation and the healthcare systems of the future, and it provides guidance on properly planning and sizing infrastructure with a focus on power and cooling systems to maximize healthcare IT continuity.
Key takeaways:
Prevent oversizing power systems to accommodate initial inrush power draws from diagnostic and imaging applications
Understand best practice use cases for Uninterruptible Power Supplies (UPS) for Picture Archiving and Communications Systems (PACS) to ensure smooth shut downs and reboots
Ensure high availability and protection for Radiology Information Systems (RIS) and Hospital Information Systems (HIS) through proper design and application of UPS, power distribution units (PDU), racks, and cooling systems
Download your free whitepaper now!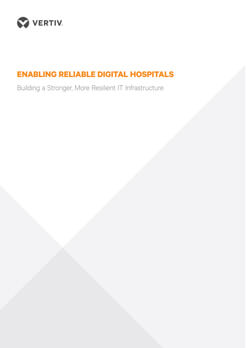 Thank you for your submission!
Download the white paper:
---
Never miss an offer
Join our mailing list to receive the latest product news and industry updates from Vertiv.