{"IsDifferent":true,"HomePageUrl":null,"PageDoesNotExist":false,"UrlForCurrentLanguage":"/en-us/campaigns/vertiv--building-a-stronger-foundation-for-the-future-of-healthcare/","IsStartPage":false,"CountryCode":"JAM","LanguageCode":"en-JM"}

Building a Stronger Foundation for the Future of Healthcare
Wearables, apps and the "internet of medical things" are redefining the concept of patient care, as providers strive to deliver more personalized services with just a few taps. As patients become more empowered to make better choices when it comes to their health, the challenge is for the healthcare IT infrastructure to support these new technologies.
Infrastructure Challenges
Technology and the IT infrastructure that supports it are now a vital part of healthcare. A power failure or dropped IT load can result in financial loss, damaged reputation, and worst case, loss of life.
Healthcare facilities require continuous, clean and reliable power to support the critical IT infrastructure and ensure 24x7 continuity.
With growing reliance on IT, the need for a stronger, more agile data center and IT infrastructure is critical.
With an aging population and rising healthcare costs, new service delivery models are helping drive costs down and provide services in the community adding convenience and flexibility.
Innovative wearable technologies and remote patient monitoring are enabling the growth of telemedicine. All of these technologies are generating large amounts of data that needs to be distributed securely and efficiently.
Rethinking healthcare IT architecture and deploying small, branch data center locations supports a variety of healthcare functions including EMR systems, digital imaging and advanced telemedicine solutions to ensure fast, easy access to information.
Today's healthcare IT and facility managers are challenged to maintain reliability of legacy applications across an aging infrastructure that spans millions of square feet and hundreds of distributed sites.
Knowing where your assets are and having visibility across your network can be difficult without the right resources.
With a connected, intelligent IT infrastructure, healthcare organizations can simplify the management of healthcare IT and improve decision making for more efficient and reliable operations.
The healthcare industry is among the most complex and becoming even more so as a result of industry consolidation, increasing regulatory requirements and adoption of new technologies.
Increasing pressure to reduce costs and improve margins are driving healthcare providers to look for ways to improve efficiency and worker productivity.
Just as data collected from IoT-enabled devices is being used to improve patient outcomes, intelligent hardware, software, and services are enabling visibility and data-driven insight to improve performance and efficiency across your distributed IT and physical infrastructure.
Connected devices and app-based technology puts key operating parameters at your fingertips improving communications and worker productivity.
According to the Department of Energy, hospitals use more energy than any other building type, typically representing approximately half of a healthcare facility manager's budget. Reducing energy usage and costs in healthcare has become a top priority.
Healthcare facility and IT managers are deploying energy-efficient solutions including equipment upgrades and replacements, performing preventive maintenance to optimize cooling efficiency, and adding monitoring and controls to power and cooling equipment.
Another growing trend in healthcare is a shift toward producing or procuring renewable energy to protect patients from the health impact caused by climate change.
Imaging systems are the backbone for diagnostic services for most hospitals and outpatient facilities.
Poor power quality, installation errors, and grounding issues can impact the operation of sensitive imaging equipment resulting in costly unplanned equipment downtime, or worse, poor image quality impacting interpretation of patient's condition, putting patients at risk.
Ensuring clean, reliable power starts with good design, including proper equipment selection and configuration, as well as proper installation. Power systems also require regular testing to comply with regulations and ensure continuous operation.
Featured Success Stories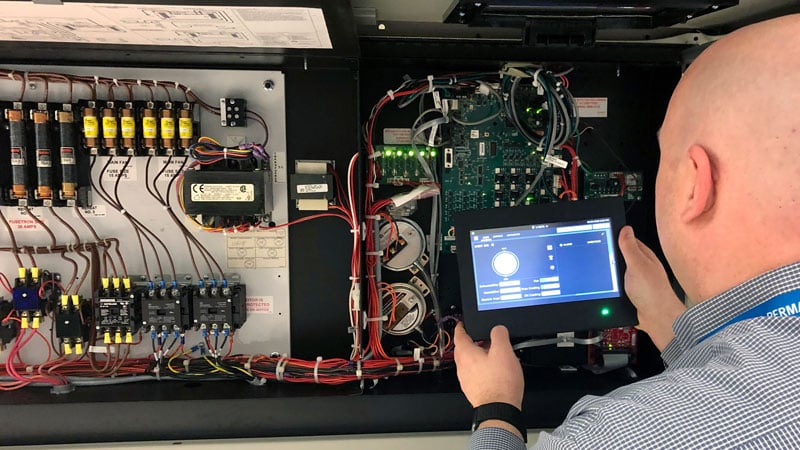 Case Studies
October 15, 2020
With a mission to improve human health and an objective to be a carbon-neutral healthcare system by 2020, this company sought a retrofit of 63 data center cooling units. Working with Vertiv, the healthcare leader aimed to generate enough ...
Read More
Talk to one of our Vertiv experts today.
Your Information Is Being Sent. Waiting for confirmation ...
Your submission has been received.
---
Never miss an offer
Join our mailing list to receive the latest product news and industry updates from Vertiv.