Vincenzo La Rosa Gangi, Business Development Manager, and Russell Bulley, Senior Application Engineer, covered "Choosing the Best Power Distribution System for your IT Space" for the latest Engineer's Frontier webinar.
When choosing electrical distribution for your data center, what should you consider? There are two choices for standard AC power distribution in data centers: cables and busbars.
What is a busbar?
Busbars are solid metal bars, typically made from copper or aluminum, that are used to carry current. Generally, a busbar is used for applications where the current density is high along sections of a route. Busbars are compact, easy to use, and robust.
There are several things to consider when deciding between busbars and cable:
Cables are more flexible and cheaper to install than busbars. Cables can be cut to length and do not have to be highly accurate, and an electrician can complete the installation. Busbars need to be designed to mm accuracy.
A busbar measuring 328mm2 can carry 1000A versus a cable measuring 300mm2, which can carry 732A, so a busbar carries more current for the same volume.
Busbars require termination boxes, tap-off boxes, or flanges and are only available in 4 & 5-conductor configurations. However, busbars can be jointed or joined throughout life and can be turned through many angles with no minimum radius on bends. Cables are flexible in terms of route and do not have joints. However, cables have maximum bending radii and cannot be changed once installed. Tap-in boxes for busbars can be moved, taken out, adapted, or rated up or down during the busbar's life, which is not possible with cables.
Cables are combustible and need armor or sheathing for EMC prevention. This insulation can degrade with time and environmental factors or be damaged by rodents. Also, insulation is, by definition, a heat insulator. Due to busbars' metal construction, they can be used as earth, and the metal acts as a heat radiator. Busbars cannot be damaged by rodents or the sun.
Busbars are up in the air, and though this maintains a neat appearance, they can be more challenging to work on. However, intelligence for busbars is available all along the length of the busbar, not just at the ends as with cable. Special arrangements can be possible in tap-off boxes such as metering and fault detection systems. Also, busbar components can be efficiently designed and visualized using the BIM and REVIT systems.
Cables can be a better option if a data center is going to grow. But under-floor cables can lead to obstructions under the floor over time and lead to cooling airflow being impeded, cable trays being overloaded, and cables being left in the floor space after the disconnection of racks, with no labels to indicate their designation.
Remote Power Panels (RPP) (used with cables) can enable intelligent distribution. Individual circuits can be monitored without opening the device. With standardized RPP, operators can set up a device, save configurations to a USB, and then use that USB to service similar devices. Individual circuit breakers are hot-swappable, so operators can replace or add a branch circuit in less than 20 seconds while other branches remain live. Though they are compact, RPP do take up more white space than busbars.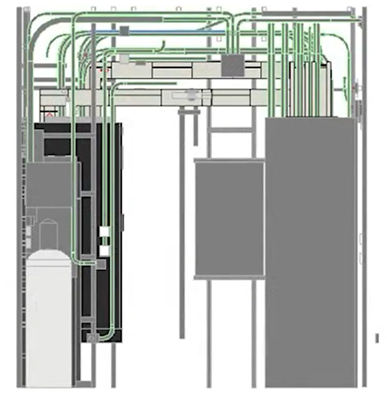 This drawing illustrates the saving in terms of space and volume that can be made by using the busbar. The green lines are cables superimposed onto a busbar installation for a switchgear container. A considerable saving in height was realized by changing to a busbar.
Russell and Vincenzo give a robust picture of further considerations around cables, busbars, and elements of electrical power distribution for the data center, including in-depth considerations for configuring busbars. Be sure to listen to their webinar to learn more and listen to the entire Engineer's Frontier webinar series.
---