Exploitanten van datacenters zijn de opties voor vloeistofkoeling aan het bestuderen, nu de groei van verwerkingsintensieve computertoepassingen toeneemt. De markt voor vloeistofkoeling zal in 2026 naar verwachting 3 miljard USD bedragen, nu organisaties steeds meer gebruikmaken van clouddiensten, artificial intelligence (AI) inzetten om geavanceerde analyses en geautomatiseerde besluitvorming aan te sturen en blockchain- en cryptovaluta-toepassingen inschakelen.
Momenteel ondersteunen datacenters stroomvereisten voor racks van meer dan 20 kilowatt (kW), maar de markt is op weg naar 50 kW of meer. De nieuwste generatie centrale verwerkingseenheden (CPU's) en grafische verwerkingseenheden (GPU's) hebben hogere eigenschappen voor thermische dichtheid dan de architecturen van de vorige generatie. Bovendien plaatsen serverfabrikanten meer CPU's en GPU's in elk rack om te voldoen aan de toenemende vraag naar hoogwaardige computing- en AI-toepassingen.
De luchtverwerking nadert nu haar grenzen. Luchtkoelsystemen kunnen deze racks met hoge stroomdichtheid gewoonweg niet op een efficiënte, duurzame manier koelen.
Om die reden zijn exploitanten van datacenters hun opties voor vloeistofkoeling aan het bestuderen. Vloeistofkoeling maakt gebruik van de hogere thermische overdrachtseigenschappen van water of andere vloeistoffen om racks met hoge stroomdichtheid efficiënt en kosteneffectief te koelen en kan tot 3.000 maal effectiever zijn dan het gebruik van lucht. De geschiktheid van vloeistofkoeling is al lang bewezen voor mainframe- en gaming-toepassingen en breidt zich nu uit naar de bescherming van in racks gemonteerde servers in datacenters over de hele wereld.
Vertiv heeft een breed scala aan resources gecreëerd om u te helpen inzicht te krijgen in de uitdagingen, kansen en technische vereisten die vloeistofkoeling met zich meebrengt. Deze resources zullen u helpen bij uw beslissingen omtrent de implementatie en opschaling van vloeistofkoeling in uw datacenter.
Hoe snel naderen we het omslagpunt voor vloeistofgekoelde datacenters?
Bekijk deze technische webinar en ontdek:
de ontwerpvereisten van op vloeistof voorbereide datacenters;
het overwinnen van de obstakels voor marktacceptatie;
statistieken omtrent energie-efficiëntie en duurzaamheid voor alternatieven voor vloeistofkoeling;
hoe de economie van immersiekoeling zich ontwikkelt.
Presentatoren zijn onder andere Stephen Liang, CTO bij Vertiv
Vloeistofkoeling versus luchtkoeling: Hoe systemen voor Thermal Management zich ontwikkelen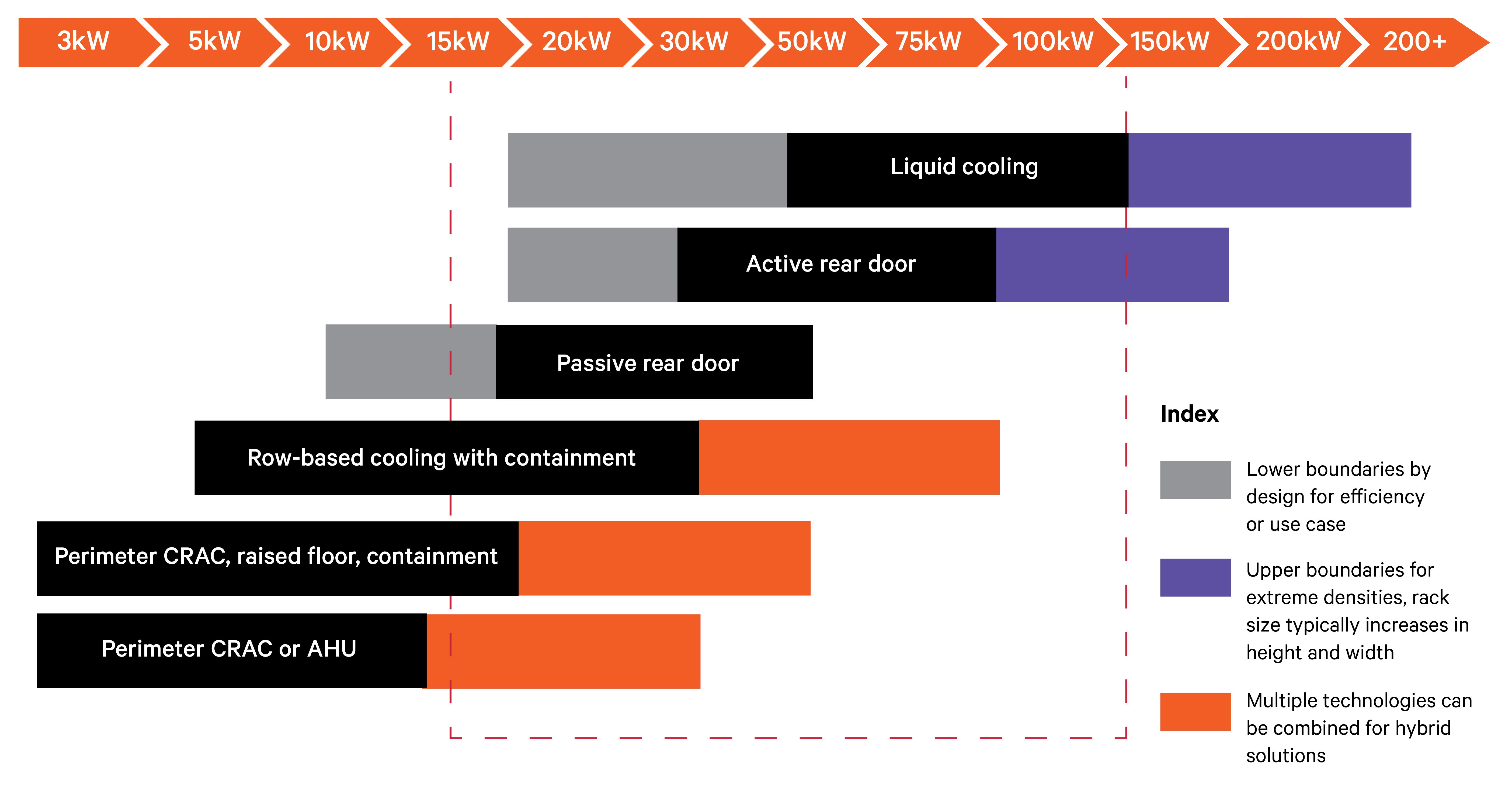 Inzicht in de opties en prestaties van vloeistofkoeling
Exploitanten van datacenters zullen een van de volgende drie mogelijke wegen bewandelen met betrekking tot vloeistofkoeling. Ze ontwikkelen uitsluitend vloeistofgekoelde datacenters, maken luchtgekoelde faciliteiten toekomstbestendig met nieuwe infrastructuur om in de toekomst vloeistofgekoelde racks te ondersteunen of integreren vloeistofkoeling in huidige luchtgekoelde faciliteiten die niet over de infrastructuur beschikken om deze te ondersteunen. De meesten zullen waarschijnlijk voor de laatste weg kiezen, om capaciteit te verkrijgen die voldoet aan de zakelijke behoeften op korte termijn en snel return on investement oplevert.
Het installeren van vloeistofkoeling kan lastig worden. Datacenter-teams zullen met een partner moeten samenwerken om over belangrijke kwesties na te denken, zoals de eisen met betrekking tot het leidingwerk, de koelingdistributie, het balanceren van de capaciteit, strategieën om risico's te beperken en hitte-uitstootsystemen.
Uw opties met betrekking tot vloeistofkoeling zijn:
Achterdeur-warmtewisselaars – Passieve of actieve warmtewisselaars vervangen de achterdeur van het rack met IT-apparatuur door een vloeistofwarmtewisselaar. Deze systemen kunnen worden gebruikt in combinatie met luchtkoelingssystemen om omgevingen met gemengde rackstroomdichtheden te koelen.

Direct-to-chip vloeistofkoeling – Direct-to-chip koude platen bevinden zich boven op de warmtegenererende componenten van de printplaat om warmte af te voeren via 1-fase koude platen of 2-fase verdampingsunits. Deze koeltechnologieën kunnen ongeveer 70-75% van de warmte verwijderen die door de apparatuur in het rack wordt gegenereerd, waardoor 25-30% van de warmte moet worden verwijderd door luchtkoelingssystemen.

Immersiekoeling – 1-fase en 2-fase systemen voor immersiekoeling dompelen servers en andere componenten in het rack onder in een thermisch geleidende diëlektrische vloeistof of fluïdum, waardoor er geen luchtkoeling nodig is. Deze benadering optimaliseert de thermische overdrachtseigenschappen van vloeistof en is de meest energie-efficiënte vorm van vloeistofkoeling op de markt.
Vereisten voor het onderhoud van vloeistofkoeling
Het grootste obstakel voor de groei van vloeistofkoeling was tot nu toe de bezorgdheid van exploitanten van datacenters over de risico's die gepaard gaan met het verplaatsen van vloeistof naar het rack. De vloeistofkoelingssystemen die momenteel worden ingezet, minimaliseren het risico op schade aan apparatuur. Dit doen ze door het volume van de vloeistoffen die worden gedistribueerd te beperken en technologie voor vloeistofdetectie te integreren in systeemcomponenten en op belangrijke plaatsen in het leidingsysteem.
Wanneer diëlektrische vloeistoffen worden gebruikt, wordt het risico op schade aan apparatuur door lekkages weggenomen. De hoge kosten van deze vloeistoffen rechtvaardigen echter de opname van lekdetectiesystemen die vergelijkbaar zijn met die in systemen op waterbasis worden gebruikt. De publicatie van het Open Compute Project over lekdetectie en integratie, Leak Detection and Integration, wordt aanbevolen voor iedereen die vloeistof in zijn datacenter invoert
Waar u zich ook bevindt in uw traject naar vloeistofkoeling, Vertiv biedt oplossingen en diensten die u helpen bij het realiseren van uw zakelijke doelstellingen en technische behoeften.
Als wereldleider op het gebied van thermal management biedt Vertiv een holistische benadering voor vloeistofkoeling. Onze oplossingen zijn gebaseerd op jarenlang onderzoek en ontwikkeling in samenwerking met het Center for Energy-Smart Electronic Systems (ES2), partneruniversiteiten, The Green Grid en Open Compute Project en Green Revolution Cooling.
Dankzij deze inspanningen en ons intensieve R&D-programma voor vloeistofkoeling houdt Vertiv gelijke tred met de veranderende eisen van de klant. Wij bieden een portfolio met oplossingen die hybride lucht- en vloeistofkoeling en volledig vloeistofgekoelde datacenters ondersteunen, waaronder:
Koelmiddeldistributie-units (CDU's) en interne koelers, ontworpen om complete infrastructuuroplossingen te bieden voor vloeistofkoeling in datacenters

Actieve en passieve achterdeur-warmtewisselaars

Innovatieve en efficiënte systemen voor immersiekoeling

Hitte-uitstootsystemen ontworpen voor gebruik met vloeistofkoeling CDU's en koelers

Retrofit-oplossingen waarmee luchtkoelingsapparatuur kan worden aangepast om vloeistofkoeling te ondersteunen

Bewezen werkwijzen en diensten voor inbedrijfstelling, opstarten en werking van de infrastructuur voor vloeistofkoeling
Het gesprek voortzetten
---