{"IsDifferent":true,"HomePageUrl":null,"PageDoesNotExist":false,"UrlForCurrentLanguage":"/en-us/products/monitoring-control--management/serial-console-management/","IsStartPage":false,"CountryCode":"ESP","LanguageCode":"es"}

Avocent Serial Console Management
Avocent Serial Console Management
Align with the Leader when Managing your IT Equipment
ACS Serial Consoles
The Avocent ACS serial consoles, part of Avocent's renowned enterprise class data center products, offer in-band and out-of-band serial access to remotely manage IT devices anywhere in the world. With the new cellular feature, providing additional connectivity capabilities, the ACS8000 cellular builds on its robust feature set such as gigabit fiber, USB and sensors with Zero-touch provisioning (ZTP), automatic pin-out detection, and robust security. Environmental monitoring capability, IoT integration, and remote networking capabilities make the ACS ideal for edge locations, enterprise data centers, and hyperscale/colo facilities.
Beyond Emergencies —
The Greater Role for Serial Consoles
Serial consoles are extremely beneficial to address emergency situations such as accessing locked-up devices and loss of IP band connectivity. This webinar lets you learn how to use serial consoles for more than emergency response.
Avocent Serial Consoles Provide a Single-Point of Access to Critical System Data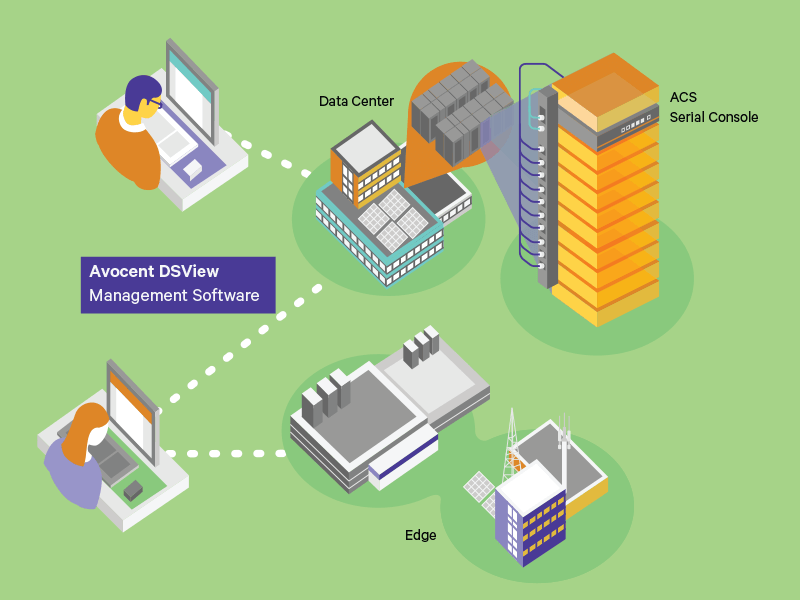 What does remote access do?

What is the value to the customer?

Remotely manage and administer devices/applications
Efficient provisioning and operation of devices
Troubleshoot device issues remotely
Faster recovery time
Reduce unexpected operating cost (OPEX)
Reduces physical access to devices
Prevents unauthorized user access to devices
Prevents inadvertent shutdown
Prevents power overload/unbalanced loads
Assign and manage user access to devices
Prevents unathorized system changes
Learn More
Avocent DSView Management Software
The Avocent DSView software manages your Avocent hardware via secured web-browser-enabled sessions of infrastructure controls.
Get remote access to servers and the network infrastructure incorporating a hub-spoke framework for database redundancy and distributed access.
Provides detailed event tracking, session logging, and alert notifications.
Securely and conveniently combine access to out-of-band and in-band services.
Learn More
Get Brochure
Get Manual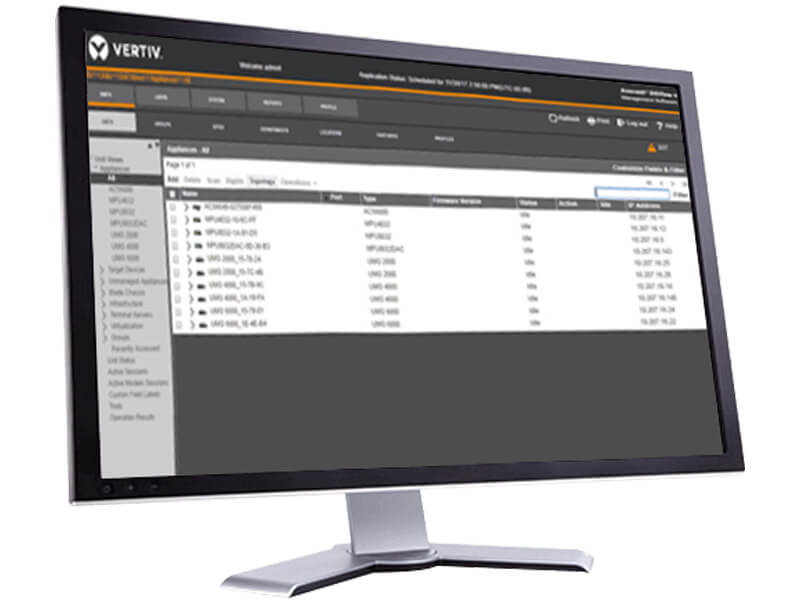 FEATURES
Accessibility
Zero-Touch Provisioning (ZTP)
In-band (ethernet) and out-of-band (dial-up/cellular modem) support
Built-in v.92 analog modem
Optional external 4G/LTE cellular router
Availability
Automatic ethernet or cellular failover using second GbE port for failover
Support for multiple-routing tables
External AC/DC ethernet support
USB support
Security
Preset security profiles: secure, moderate, and open
Custom security profiles
IPSec support with third-party certificates
X.509 SSH certificate support
SSHv1 and SSHv2
Local, RADIUS, TACACS+, LDA/AD authentication
Two-factor authentication (RSA SecurID®)
One-time password (OTP)
BENEFITS
Accessibility
NEW! - Cellular connectivity provides secondary failover support
Access and troubleshoot remote locations using automatic network failover to cellular, Ethernet or analog modem
Secure in-band and out-of-band network remote management
Availability
Automatic ethernet or cellular failover using second GbE port for failover
Support for Vertiv GXT4, GXT5 UPS systems and IPv6 and IPv4 support for new network deployments
Integration with Avocent DSView™ software for centralized management
Expanded support for Rack PDUs from Vertiv Geist™ and other competitor products such as ServerTech, APC, Raritan and Eaton
No need for adaptors with automatic Cyclades™ and Cisco pin-out conversions
Integrated support for 1Gb SFP fiber modulesy8 USB ports to support new IT equipment and external devices
Security
Compliance with data center access and security policies customizable, multiple access levels
Console event logging and notification, including "last gasp" capture
Regulatory compliance and easy troubleshooting – online and off-line data logging with time stamps
---
No te pierdas ninguna oferta
Únete a nuestra lista de correo para recibir las últimas noticias sobre productos y actualizaciones del sector de Vertiv.