Giordano Albertazzi, President of Vertiv and Global Channel Leader in Europe, Middle East and Africa, struck an upbeat note at the Annual Channel Summit and Awards 2021, and underscored the company's commitment to its channel partners.
Life is a marathon, not a sprint, the saying goes.
That message seems particularly apt after the tumultuous last 18 months. The Covid-19 pandemic has caused huge upheaval to our healthcare systems, economies and societies. However, as economies rebound and life slowly gets back to normal, there are reasons to be cautiously optimistic – especially for those of us working in the IT critical infrastructure industry.
How will the booming market for Edge computing grow in the short to medium-term? What is the future of the channel market for IT infrastructure? How will the IT infrastructure industry, and its channel partners, meet growing demand for energy-efficient technology and ease the IT skills shortage?
Related Articles
BLOG POSTS
These were some of the subjects discussed recently at the Vertiv Annual Channel Summit and Awards ('Keep IT Running') – a digital event held on 17 November, which also included awards for the top-performing partners in the IT channel industry across EMEA, a virtual expo showing Vertiv's latest technologies, and its resources and support for channel partners.
In the event's opening speech ('Full Speed Ahead with 2022 and Beyond'), Giordano Albertazzi, president of Vertiv and Global Channel Leader in Europe, Middle East and Africa, said that demand for Edge computing (computing that is near the user at the Edge of a network, in places including small, prefabricated data centres, or via hardware such as gateway nodes) is growing fast.
Edge Computing Boom
Global spending on Edge infrastructure will grow by an average per year of 18.5% between 2019 and 2025, with the market worth $41.7 billion in 2025, according to a forecast by IDC, a research company.
"We are seeing the entire digital infrastructure market continue to grow, but the fastest growth is with the Edge," said Giordano. "The Edge is broad and very multi-faceted, and our partnership with the channel is important to enable Vertiv to address all use cases and infrastructure in the Edge market."
"Size and complexity of the Edge means that no one company can succeed in delivering the Edge alone," he said.
Edge technology was "the other side" of cloud computing, another fast-growing IT market, he added. "[Cloud and the Edge] will start to go together, creating a large digital infrastructure."
The Edge is a new technology, with numerous definitions. That can make it difficult to understand how it is best used in IT infrastructure and what customers need from the Edge.
IT Infrastructure and the Edge
In October, Vertiv published a report, which outlined four Edge "archetypes" for how the technology is used in IT infrastructure.
These uses range from the small (ruggedised devices or IT closets with a couple of servers) to the large (a regional data centre or co-location facility of more than 20 racks, and a power capacity of up to four megawatts).
Customers prefer to have a single supplier to aggregate all the technologies, competencies and knowledge needed to build Edge computing, Giordano said.
Edge computing can also help companies improve energy efficiency of old IT infrastructure and cut carbon emissions, he said.
At the same event, Steve Brazier, president and CEO at Canalys, a technology and research business, discussed the rapid growth of the technology in the last year, and challenges and opportunities for channel partners.
The technology industry is just about the fastest growing sector of the whole economy, he said.
"We now think that the growth of the technology industry has decoupled from GDP [Gross Domestic Product] growth [in countries]…Now GDP can go down and the tech industry can still go up. And that's because digital transformation is taking place everywhere – whether that's in the taxi industry, food-delivery industry, the healthcare industry, the education industry and on and on."
Tech Industry Challenges
Despite these headwinds, the IT industry still faces challenges – including a shortage of semi-conductors, causing delays for some IT products. Another challenge is rising inflation, which may lead to wage increases and companies putting up their prices. Central banks may also increase interest rates and economic activity could fall.
However, even if there is an economic downturn, Brazier said that he didn't think that the technology industry will go into recession.
For IT infrastructure providers and their channel partners, the fastest-growing tech market in the next year will be wi-fi and (campus) networking, he said.
"People find that [when they get back to the office] they have less bandwidth in the office than they have at home. It's harder to make a video call in the office than it is at home."
There is going to be a rush of expenditure inside networks (in offices, university campuses and hospitals, etc.) to give people the bandwidth they need to work from their desk, he added. There will also be growth in collaboration tools and software, he said.
Data Centre Growth
The data centre market is expected to continue its strong growth, due to growing business and consumer demand for data. One challenge for the data industry is meeting this demand in an environmentally responsible way, and without placing an undue strain on national energy grids.
In 2019, Amsterdam stopped issuing permits for data centres in certain parts of the city because often, data centres cluster together. There was a concern that there wouldn't be enough electricity for those data centres, Brazier said. In 2020, these rules were extended for five years.
Overall, however, the future looks bright for IT infrastructure companies and their channel partners. The pandemic has highlighted our reliance on digital infrastructure and the roll out of fifth-generation mobile networks and data-intensive technologies, such as artificial intelligence, will further boost the market.
As Giordano said: "Covid has accelerated IT adoption in a way that would have been unthinkable a few years ago and [has] seen the IT industry helping keep the world spinning in very difficult circumstances."
Watch the keynote session on demand.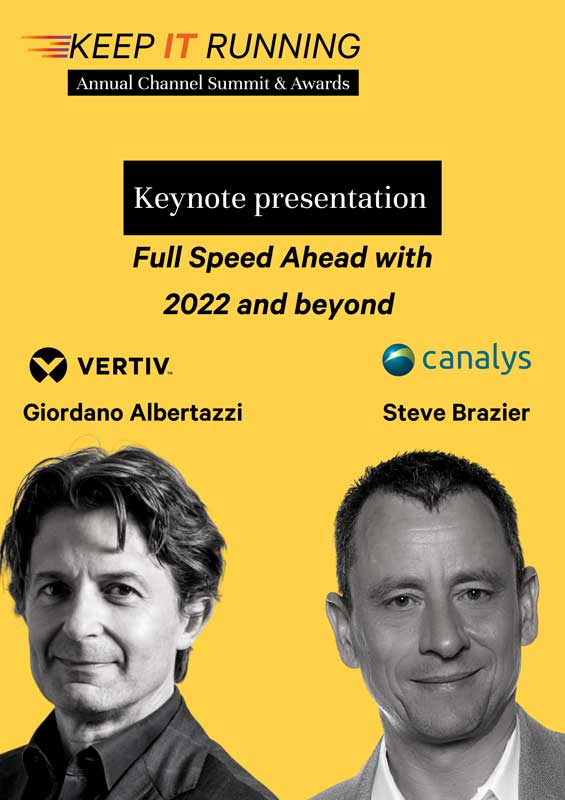 ---