{"IsDifferent":true,"HomePageUrl":"/en-us/","PageDoesNotExist":true,"UrlForCurrentLanguage":null,"IsStartPage":false,"CountryCode":"GBR","LanguageCode":"en-GB"}

Annual Channel Summit & Awards
"Keep IT Running" • 17th of November
During the pandemic, we realized that it's not the sprint, but the marathon - that matters. Throughout this global challenge, the IT Channel has shown resilience and commitment, keeping us and the world's infrastructure running. It's time for Channel representatives to connect and rethink technology use, for the long-term.
Following the great response to Vertiv's first Channel Summit event in 2020 held virtually, we invite you to get back on track and attend our new 2021 edition, Annual Channel Summit & Awards "Keep IT Running" on the 17th of November.
Talk the talk, walk the walk. Join us for a 3,5 hour session of digital content. A full-packed agenda awaits you, filled with sessions from executives, guest speakers from industry leading companies: Canalys, CRN and Dell Technologies, along with industry peers and product experts.
Don't miss the Channel Awards EMEA where we will be rewarding the Best Performing Partners of the year, regionally and across EMEA.
Inspire IT

Get inspired by world-renowned guest speaker, Guy Kawasaki from Canva, on the art of disruption in the IT market. Discover the winning formula with edge market trends and solutions from keynote speakers of Canalys, Canva, Dell Technologies and our Vertiv EMEA President.

Connect IT

Join your peers on the panel discussion, hosted by CRN.

We will be rewarding the Best Performing Partners of the year, regionally and across EMEA at the Annual Channel Awards

Educate IT

Visit our Virtual Hall for more information on Vertiv solutions & products. Exclusive live demos ask the experts via live-chat function and Q&A sessions.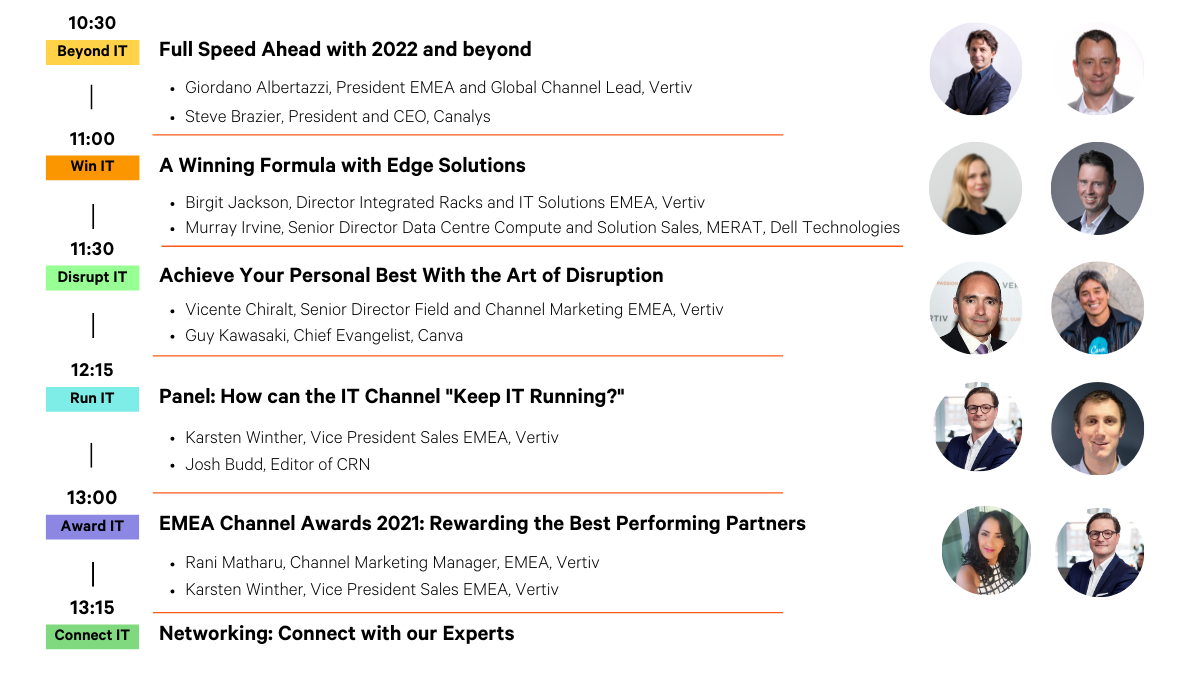 Discover firsthand how we assist our partners in selling our solutions, connect with our experts and keep up-to-date, on latest channel industry trends. Whether you're a brand new Vertiv reseller or an established distribution partner, this is the event for you. Let's Keep IT Running together, for 2021 and beyond.
Secure your spot
We will reward our first 200 registrants with a surprise gift.
Please make sure you register with your correct and complete address (country, city, address and zip code), so we can ensure the delivery.
REGISTER NOW
* free of charge
If you have registered to our event and have not received the email confirmation, please email us at EMEA.partnermarkerting@vertiv.com
---
Continue the conversation
Signup for Vertiv Updates