{"IsDifferent":true,"HomePageUrl":"/en-us/","PageDoesNotExist":true,"UrlForCurrentLanguage":null,"IsStartPage":false,"CountryCode":"GBR","LanguageCode":"en-GB"}
×
Cookies Settings
These cookies are essential to ensure the correct functioning of the website, to allow you to register/login and access reserved features, and to allow us to monitor the security of the website and improve operating performance, for example, by storing your preferences to enhance your subsequent visits.
These cookies allow us to collect and analyze traffic and use of the website on an anonymous basis and to understand and improve how visitors use the website, including which pages and products are viewed most frequently. These cookies are not strictly necessary for the website to work but will provide you a better browsing experience.
These cookies allow us to track your navigation of the website to create profiles of your tastes, habits, choices, etc., to send you promotional messages targeted to your preferences. Refusal of these cookies will not affect the proper functioning of the website but will prevent us from being able to send your promotional messages targeted to your preferences.
x
By clicking "Accept All", you agree to the storing of cookies on your device to enhance site navigation, analyze site usage, and assist in our marketing efforts.

Redeem up to
£/€

100 Gift Card on Vertiv

™

Liebert

®

GXT5 product line*

Provide your customers with the reassurance they need to confidently face any power outage and grab yourself a X100 Bonus Points, redeemable on a range of gift cards or other great reward items !

Take advantage of our limited-time promotional offer:
100 Bonus Points that can be redeemed for many gift cards or a variety of other reward items available in the VIP Portal (1 Bonus Point = 1 £/€)
To be eligible for the Bonus Points, you must purchase one or more products of the Vertiv™ Liebert

®

GXT5 product line from a Vertiv authorized distributor.
Offer available for resellers registered to the Vertiv Incentive Program only. If you're not yet registered, simply register as a reseller with the Vertiv Incentive Program to become eligible here.
Power up your business today and enjoy these fantastic rewards.
Don't let this opportunity slip away!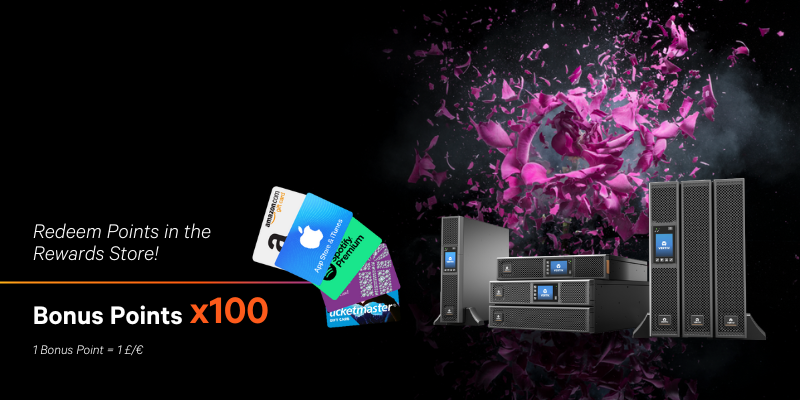 Already a partner?
To claim your points simply complete this form to register your purchase. Your points will automatically be added to your account once the purchase has been verified.
Not yet a Partner
Sign up now for the award winning Vertiv Partner Program plus the VIP Program here and register for purchase here.
Vertiv is no longer accepting claims
---
Never miss an offer
Join our mailing list to receive the latest product news and industry updates from Vertiv.