{"IsDifferent":true,"HomePageUrl":null,"PageDoesNotExist":false,"UrlForCurrentLanguage":"/en-us/about/news-and-insights/articles/white-papers/how-chilled-water-systems-meet-data-center-availability-and-sustainability-goals/","IsStartPage":false,"CountryCode":"GBR","LanguageCode":"en-GB"}

How Chilled Water Systems Meet Data Center Availability and Sustainability Goals
How Chilled Water Systems Meet Data Center Availability and Sustainability Goals
How Chilled Water Systems Meet Data Center Availability and Sustainability Goals
The data center industry continues to develop larger data centers to meet capacity demands, while at the same time taking steps to significantly reduce the impact of data centers on the environment. Cooling systems, and in particular, chilled water systems can play an important role in this evolution. They allow owners and operators to develop new data centers that are more efficient by addressing both direct and indirect emissions, which are factored into the total equivalent warming impact (TEWI) metric. The ability of a chilled water system to drive down both direct and indirect emissions allows critical facility operators to achieve a low TEWI. Chilled water systems also effectively balance water and energy usage for efficient cooling systems to support a low water usage effectiveness (WUE). The combination of low TEWI and low WUE makes chilled water systems one of the most sustainable choices for data center thermal management in terms of energy and water efficiency. These systems have been adapted to follow the evolution of data centers to non-raised floor designs and can help facilitate the transition to liquid cooling.
Today's chilled water systems reduce direct emissions by limiting the amount of refrigerant used compared to other technologies and enabling the use of new, greener refrigerant types available in the market. These systems also reduce indirect emissions when they adopt new technologies and the system is optimized via best practices regarding system control, as described in this paper.
Fill in the fields below and get your Chilled Water Solution white paper.
Select your avatar and see how you can test chilled water systems
Take a virtual visit to our Chilled Water High-Technology Innovation Labs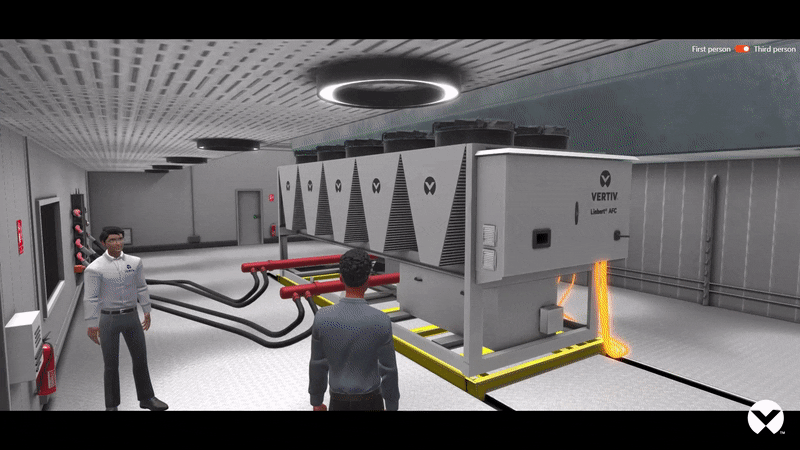 ---
Never miss an offer
Join our mailing list to receive the latest product news and industry updates from Vertiv.