The center gives our customers the unique opportunity to witness pre-installation demonstrations, covering technical performance, interoperability and efficiency of Vertiv's Thermal Management solutions under a broad range of real field conditions.
Customers visiting the center may also benefit from a comprehensive consultation from our R&D, engineering and application specialists. The Customer Experience Center provides customers, consultants and data center specialists with the most complete testing area to experience the capabilities of our technologies at peak conditions. All our measuring tools are periodically tested to adhere to current international quality procedures.
Every customer visit is accompanied by a complete final report which includes each and every tested parameter as well as the relevant outputs for the specific Thermal Management unit validated. With our constant focus on our customers' needs, we guide them through a first-hand experience with full transparency and flexibility, enabling them to achieve the highest standards of technical excellence.
Download Brochure
Thermal Management Digital Factory Acceptance Testing
Digital FAT allows operators, contractors and certifying bodies to follow the detailed Factory Acceptance Testing from any location around the globe.
Learn More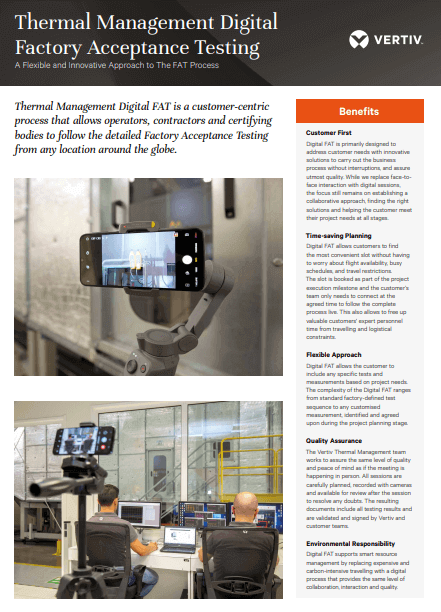 ---