IT Racks Have Unique Power Requirements
A rack uninterruptible power supply (UPS) system is designed for use within standard 19-inch IT racks or rack-based enclosures. Rack-based UPS systems must be designed to provide maximum power in very compact packages that include built-in batteries. A rack UPS generally uses from 1U to 12U of vertical rack space.
Most rack UPS systems employ either online (double conversion) or line-interactive power topologies. Each technology has its advantages and each may be necessary for configuring cost-effective power protection, especially in complex systems. The choice depends on factors including the criticality of the protected equipment, load size, location and budgetary considerations.
Proper Power Protection is More Important Than Ever
With digitization increasing in virtually every sector, distributed IT has become essential to supporting users, delivering services and collecting data. Across education, government, banking, retail and a host of other industries, IT organizations are bolstering the capacity and resiliency of remote sites and deploying equipment to new and different types of locations.
IT capacity is expanding from core data centers out to the network edge, which is requiring uninterruptible power supply (UPS) systems to adapt and deliver higher security. The network edge is no longer a simple closet for data storage and networking gear. Distributed, decentralized architecture is now critical to the computing environment.
The proliferation of the Internet of Things (IoT) and cloud services has created new expectations of edge computing. Consumers expect always-on availability, with almost instantaneous response as a key driver. This fuels a burgeoning need for local edge centers that can process data closer to the user.
Most of the IT infrastructure behind this is based on racks and the equipment mounted inside them. To protect the operation of critical servers and networking components it is essential to have a reliable UPS system nearby to assure continuous availability of critical systems. Wherever these rack are located, power protection must be included along with the other components. In most cases the UPS system is mounted in the IT rack right along with the equipment that it is protecting.
Because of their importance, today's rack-based computing spaces are business critical and IT managers are increasingly pressed to protect them. Reliability means availability and that begins with continuous power. Your computing performance depends on reliable, UPS-provided backup power that is right there in the rack.
Inside the Rack
Rack-mounted servers are at the heart of today's network computing systems. These critical components need reliable, compact power protection that will keep pace with their growing needs. The 19-inch server rack is the standard size frame or enclosure for mounting this equipment, allowing dense hardware configurations within a small footprint. Rack-mountable equipment is installed by bolting or clipping its front panel to the rack. By consolidating both servers and UPS in a single rack, major space savings benefits can be achieved.
Designed for servers and networking equipment used in rackmount environments, rack UPS systems are ideally suited for mission critical applications and systems, network workstations, servers, IDF/network closets, large network peripherals, VoIP and workstations.
Today's converged networks require increased availability and reliability. IT professionals require higher density power protection systems that adapt to mixed load voltages and plug types, while remaining easy to install and maintain. These applications also require UPS systems with communications capabilities to provide SNMP and web-based management as well as connection for environmental sensors.
Racks can be used in a wide variety of locations and environments meaning that a rackmount UPS must be able to function properly in these locations as well. They can be located anywhere from large data centers to network closets and other remote edge locations.
Rack UPS Power Topologies
Rack systems are generally one of these two types of UPS configurations:
Online (Double Conversion) UPS—Online UPS delivers continuous, high-quality AC power to equipment with no break when transferring to battery. These devices protect equipment from virtually all power disturbances due to blackouts, brownouts, sags, surges or noise interference. A true online, double-conversion UPS provides 100% power conditioning, zero transfer time to battery, no change in output voltage and better transient suppression than line-interactive units. When it comes to critical IT loads, only online double conversion technology protects fully against all eventualities.


Line-Interactive UPS—Line-interactive UPS systems provide both power conditioning and battery backup. This technology is particularly effective in areas where outages are rare, but power fluctuations are common. Line-interactive UPS support a wide range of input voltage fluctuations before switching to battery backup. Beyond battery backup, line-interactive UPS provides far better control over power fluctuations then offline systems. The critical advantage of line-interactive UPS is the voltage boost circuitry and the range of input voltage that that UPS accepts. The wider the range, the more total protection you will have. Provides power conditioning with a 4-6 millisecond break in power when transferring to battery back-up.
Vertiv Offers Industry-Leading Rack UPS Systems
Vertiv offers the industry's most complete line of rackmount UPS systems for edge of network applications featuring both online and line-interactive technologies. These systems are designed for reliability and flexibility, combining power capacity and outstanding operational features into the smallest possible package.
Line-Interactive
Vertiv™ Edge is a family of highly reliable, efficient, manageable and flexible line interactive sinewave UPSs, with models ranging from 500VA to 3000VA in 1U, 2U, 3U, mini-tower, rack tower and rack-mount form factors (depending on model). With a high 0.9 power factor, controllable outlets and extended runtime options, Vertiv Edge is a cost-effective choice for protecting server and networking equipment in distributed and Edge IT applications.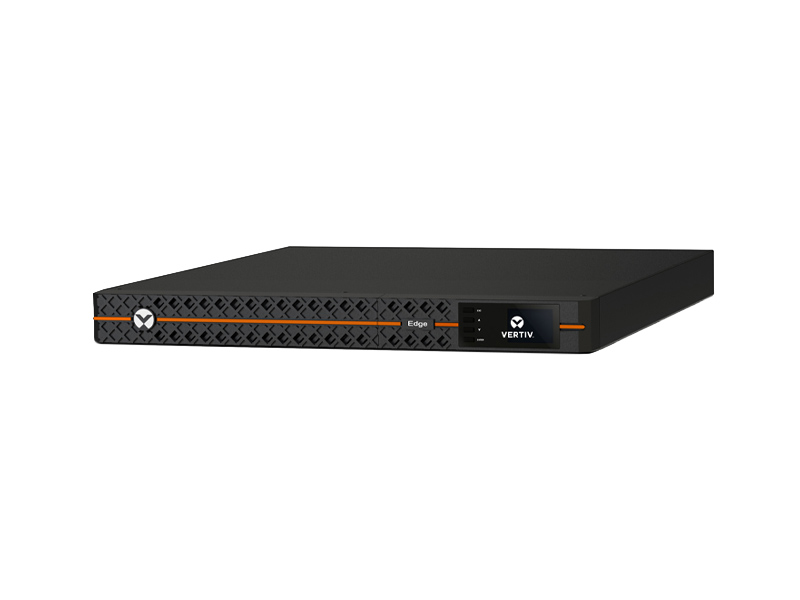 ---