{"IsDifferent":true,"HomePageUrl":"/en-us/","PageDoesNotExist":true,"UrlForCurrentLanguage":null,"IsStartPage":false,"CountryCode":"GBR","LanguageCode":"en-GB"}

A Practical Guide to Enabling 5G Deployments
A Practical Guide to Enabling 5G Deployments
May 30, 2019
According to a report from 451 Research titled, "Telco Study on 5G Reveals Industry Hopes and Fears: From Energy Costs to Edge Computing Transformation," 5G will be "the most impactful and difficult network upgrade ever faced by the telecom industry."
But while telecom operators are moving forward aggressively to capitalize on this opportunity, there are still questions to be answered and challenges to be met. Almost two-thirds (62 percent) of survey participants say they are still in the process of building out operational plans to support 5G. That's not surprising considering the majority of respondents (68 percent) do not expect to achieve total 5G coverage until 2028 or later.
As standards continue to evolve, new use cases are enabled and networks are transformed, telecom operators—and the enterprises they support—will need to make significant investments in their network. Those investments will be focused on supporting densification, adding computing and storage capacity at the edge and adapting to 5G's higher energy requirements.
This practical guide gives network infrastructure directors (core and access), procurement teams as well as third-party telecom consultants clear direction on how to manage this prolific industry transformation.
Download the Report
Please fill out the form below.
Related Articles
To clearly understand the upsides and downsides of delivering 5G infrastructure, Vertiv partnered with 451 Research to get operators' insights on implementing 5G and edge computing.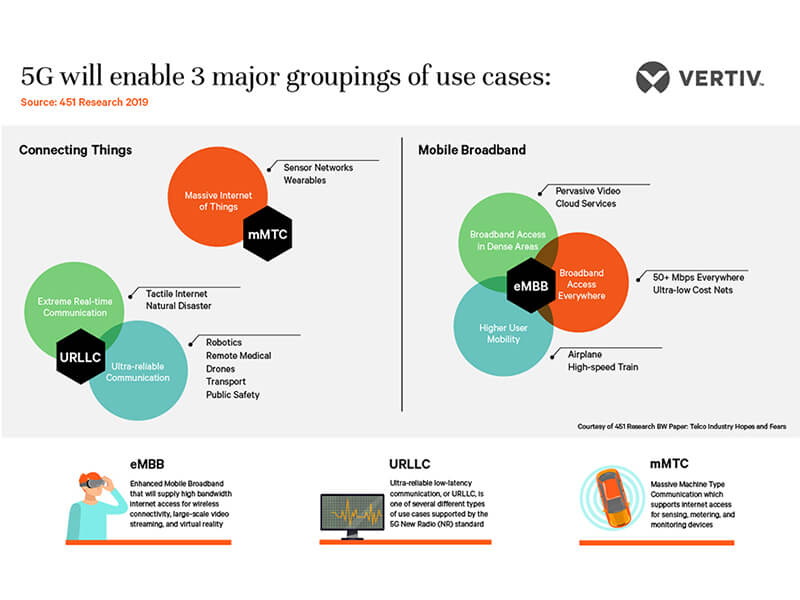 ---
Never miss an offer
Join our mailing list to receive the latest product news and industry updates from Vertiv.