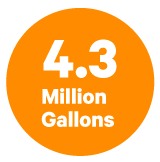 That's the amount of water that can be eliminated annually in a 1MW California data center by using pumped refrigerant economization, compared to water economization.
The California Energy Commission in 2015 approved using the Liebert DSE system freecooling with pumped refrigerant economizer in the state's data centers, as part of its prescribed economization methods under Title 24. Previously, the Commission's prescribed usage included only air and water economizers.
Higher Efficiency Without Using A Drop
The Liebert DSE freecooling system with pumped refrigerant economizer maximizes annual economization hours – and uses no water. With this system, data centers in California can:
Cut annual water usage by 4.3 million gallons for a typical 1MW data center
Reduce Time Dependent Value of energy by 8 percent to 10 percent
Eliminate water treatment costs and hazards
Eliminate the risk of outside air contamination
Maximize protection and efficiency

through integrated advanced controls
Vertiv has published a full report showing the analysis of pumped refrigerant economization compared to water-side and air-side economization.
Read the Report
---