{"IsDifferent":true,"HomePageUrl":"/en-us/","PageDoesNotExist":true,"UrlForCurrentLanguage":null,"IsStartPage":false,"CountryCode":"JAM","LanguageCode":"en-JM"}
×
Cookies Settings
These cookies are essential to ensure the correct functioning of the website, to allow you to register/login and access reserved features, and to allow us to monitor the security of the website and improve operating performance, for example, by storing your preferences to enhance your subsequent visits.
These cookies allow us to collect and analyze traffic and use of the website on an anonymous basis and to understand and improve how visitors use the website, including which pages and products are viewed most frequently. These cookies are not strictly necessary for the website to work but will provide you a better browsing experience.
These cookies allow us to track your navigation of the website to create profiles of your tastes, habits, choices, etc., to send you promotional messages targeted to your preferences. Refusal of these cookies will not affect the proper functioning of the website but will prevent us from being able to send your promotional messages targeted to your preferences.
x
By clicking "Accept All", you agree to the storing of cookies on your device to enhance site navigation, analyze site usage, and assist in our marketing efforts.

The "Service Partner" program from Vertiv (Authorized Service Provider) seeks to improve the end customer experience, no matter where they are. It means having a strategic, reliable partner, with standardized factory processes to develop jobs, a workforce that's prepared, trained and reliable. It means ensuring geographic coverage, support, and a strong brand at all times.
Furthermore, Vertiv seeks to standardize and streamline processes and reduce prices while improving the agreed SLA times. This is covered by a standardized agreement that promotes quality service and improves the user experience.
Scope of the Program
As an Authorized Service Providers under the Vertiv "Service Partner" program, your company will be able to provide services on behalf of Vertiv while maintaining the quality standards defined by Vertiv.
Vertiv "Service Partners" can provide services with Vertiv's guarantee of support and benefit from a sustained business growth plan that allows partners to sell services, attract customers with equipment not covered by current contracts. Partners can streamline their customer service with greater commercial and geographic coverage.

DOWNLOAD THE BROCHURE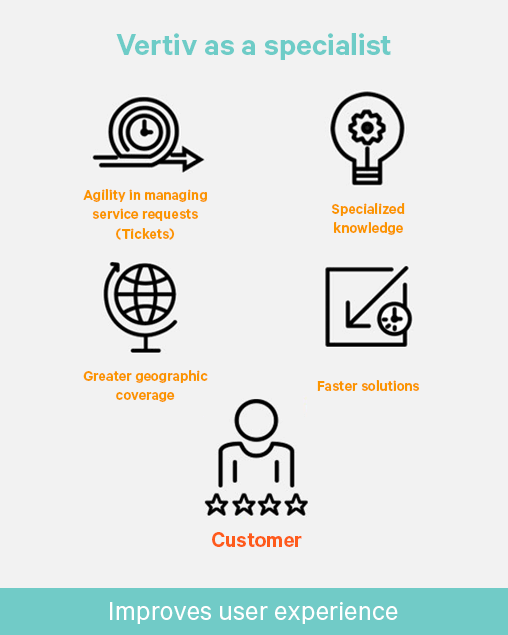 Never miss an offer
Join our mailing list to receive the latest product news and industry updates from Vertiv.