{"IsDifferent":true,"HomePageUrl":"/en-us/","PageDoesNotExist":true,"UrlForCurrentLanguage":null,"IsStartPage":false,"CountryCode":"JAM","LanguageCode":"en-JM"}

The "Service Partner" program from Vertiv (Authorized Service Provider) seeks to improve the end customer experience, no matter where they are. It means having a strategic, reliable partner, with standardized factory processes to develop jobs, a workforce that's prepared, trained and reliable. It means ensuring geographic coverage, support, and a strong brand at all times.
Furthermore, Vertiv seeks to standardize and streamline processes and reduce prices while improving the agreed SLA times. This is covered by a standardized agreement that promotes quality service and improves the user experience.
Scope of the Program
As an Authorized Service Providers under the Vertiv "Service Partner" program, your company will be able to provide services on behalf of Vertiv while maintaining the quality standards defined by Vertiv.
Vertiv "Service Partners" can provide services with Vertiv's guarantee of support and benefit from a sustained business growth plan that allows partners to sell services, attract customers with equipment not covered by current contracts. Partners can streamline their customer service with greater commercial and geographic coverage.

DOWNLOAD THE BROCHURE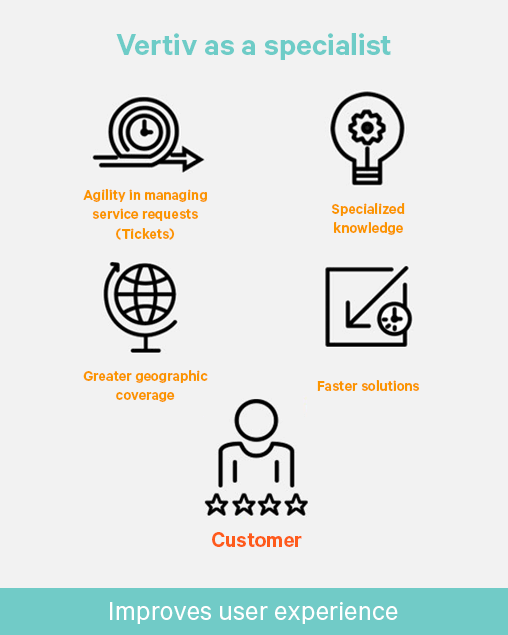 Never miss an offer
Join our mailing list to receive the latest product news and industry updates from Vertiv.