{"IsDifferent":true,"HomePageUrl":"/en-us/","PageDoesNotExist":true,"UrlForCurrentLanguage":null,"IsStartPage":false,"CountryCode":"JAM","LanguageCode":"en-JM"}

Services for Critical Facilities and Advanced Solutions
Services for Critical Facilities
and Advanced Solutions
World-class Service to Reduce the Risk of your Critical Infrastructure
We offer handling, operation and maintenance services of data centers and solutions for their critical infrastructure. We have the right qualified personnel, processes and innovative technologies, backed up by the best practices in the industry for an efficient and cost-effective setup.
Why should companies consider taking these services?
The high costs of downtime in data centers force companies into looking for efficient solutions.
The need to focus on central corporate capacities while complying with the strict requirements of commercial continuity.
Provides innovative solutions based on expertise for an evolving competitive market.
Best Suited For: Data centers, communication networks and for the commercial and industrial sectors.
Get Brochure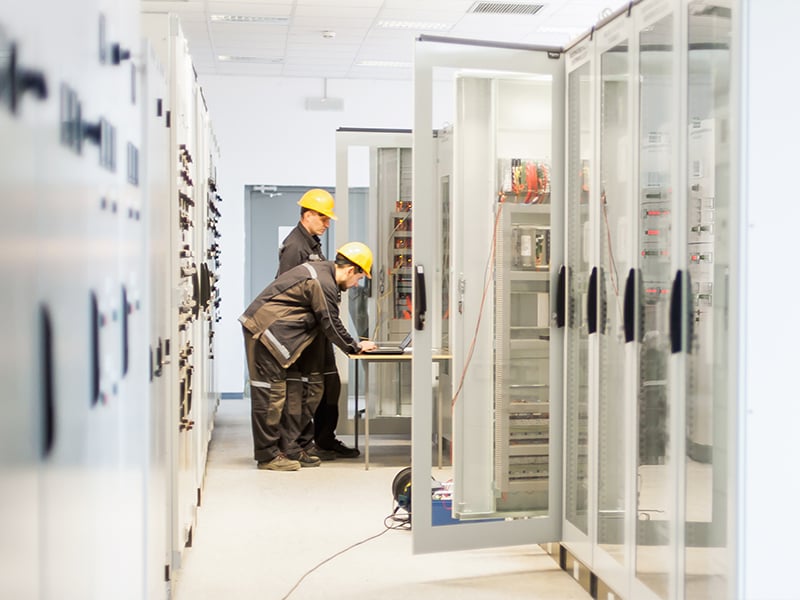 About Our Services
Service levels are done by Vertiv personnel and contractors for the entire Critical Infrastructure:
Level 1 – Daily routine check-ups, parameter reading, revision of operation points, equipment rotation, analysis of capability, alarm verification and remote monitoring.
Level 2 – Preventative Maintenance, Corrective Maintenance, substitutions and updates
Level 3 – Predictive Maintenance: Audits, Analysis of Energy, CFD Analysis, thermography, analysis of air and water particles, reading of battery status, among others.
Learn More About Service Levels
Qualified, trained and organized personnel.
Proactive maintenance through service engineering (energy analysis, CFD, thermography among others).
Establishment of documented operative processes.
Creation of a complete reference library with access to all documents, centralized and available to all personnel and suppliers.
Contractor company supervision for non-critical activities.
Continual evaluation of trends for the installed capability and for the critical load in anticipation of growth requirements.
Monitoring and adjustment of equipment parameters to guarantee an efficient operation.
Redundancy rotation to extend the life cycle of equipment.
Ensures business continuity by achieving more uptime with better use of performance and capability.
Reduces the risk of human error by employing digitalized and documented processes.
Alleviates risks by executing programs in current processes of your business.
Achieves better energy efficiency (reduction of PUE) as well as a sustainable operation at a lower total cost for operations (TCO).
Reduction of OPEX (fixed expenses, hired and discretionary) and CAPEX (substitutions and updated).
Increases the lifespan of your equipment and maximizes the owner's investment.
Rapid response by highly qualified personnel that will solve your risk situations.
A complete life-cycle approach to service, from project launch to ongoing maintenance and performance optimization.
Project
When updating facilities or powering up new equipment due to data center growth, you want to do it right from the start
Maintenance
Services to ensure that your business-critical infrastructure operates reliably, safely and efficiently
Performance
A wide set of services designed for the optimization and the performance of critical infrastructure, as well as to reduce the complexity of processes and efficient operations by following best practices in the industry and reducing risks inherent to the operations.
Learn More
Learn More
Vertiv technicians are qualified in the following technical disciplines based on best practices for operations in critical facilities.
Power Distribution
We have all electrical equipment, from cabling to computer room equipment circuits, electrical circuit breakers, batteries, distribution panels, energy protection systems, electrical backup generators, UPS, PDUs and rectifiers.
Precision ventilation and air conditioning
Expertise of all the refrigeration providing equipment, power loads, air treatment units, chillers, cooling towers, pumps and pipelines.
Critical Infrastructure Control and Management
All monitoring and remote control systems. Management of all systems that are somehow connected to the critical equipment.
IT Technical Space
Racks, elevated floor systems, cabling, switchgear, air handling and physical security.
Environmental Health and Security
Knowledge and ability to keep a safe and healthy workplace.
Detailed knowledge of codes, regulations and applicable safety policies.
Understanding of concepts and practices related to risk analysis and risk mitigation.
Critical facility & advanced solution services We offer proactive handling, operation and maintenance services for data centers and critical infrastructure.
We follow industry best practices
We have highly trained personnel who comply with rigorous maintenance programs to track opportunities using a management system (MMS).
Our services follow procedures that ensure reliable, secure, efficient and profitable facilities.
Download Brochure
Related Products & Services
---
Never miss an offer
Join our mailing list to receive the latest product news and industry updates from Vertiv.