Efficient Products and Systems
Vertiv is committed to working with our customers in solving the complex problems related to critical digital infrastructure. We believe that being mindful of product design, development, use, and disposal is important to the longevity of our industry. Our approach to meeting our customers' demands for growing critical digital infrastructure while helping them reduce their impact on the environment rests on five key principles:
High efficiency: Design and deliver solutions that are energy and water efficient.
High reliability: Build resilient and highly serviceable equipment that is durable and long lasting.
Low impact: Strive to understand and limit manufacturing processes that may have adverse environmental impacts, and measure and increase use of recyclable materials in our products and product packaging.
Low touch: Enable remote troubleshooting, optimization services, and more connected systems to improve and reduce environmental impact of maintenance practices.
Circular economy: Reuse, refurbish, or recycle end-of-life equipment and materials.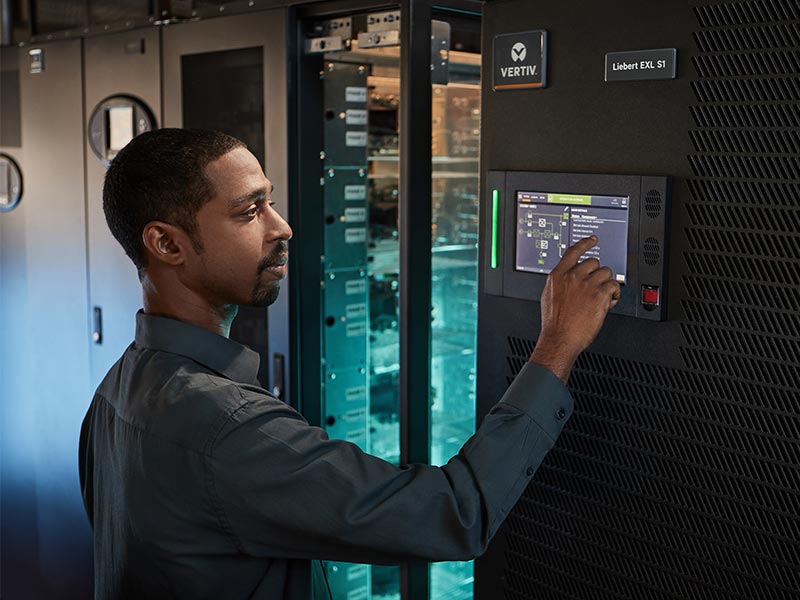 Power Solutions
Vertiv offers a wide range of mission-critical power products and systems that provide class-leading efficiency by leveraging technologies such as Trinergy™ and Dynamic Online operating mode. For instance, our Vertiv™ Liebert® EXL S1 UPS with Dynamic Online Mode enables operating efficiency up to 99% and is more energy efficient as compared to a standard online UPS. The Vertiv™ Liebert® Trinergy™ Cube UPS will automatically select, best on input power source conditions, the most efficient operation mode to provide greater than 98% system efficiency without compromising critical load uptime. We also offer ENERGY STAR certified UPS systems in eight product lines, covering more than 70 models. Further, we are helping customers lower their energy costs through UPS systems with Dynamic Grid Support features.
Preparing for a Carbon-Free Future: Steps Colos Can Take to Reduce Reliance on Carbon-Based Energy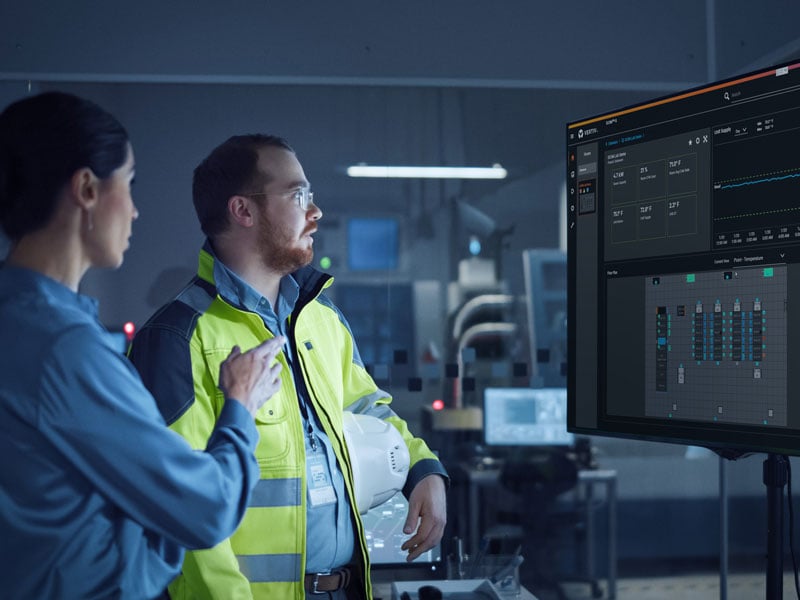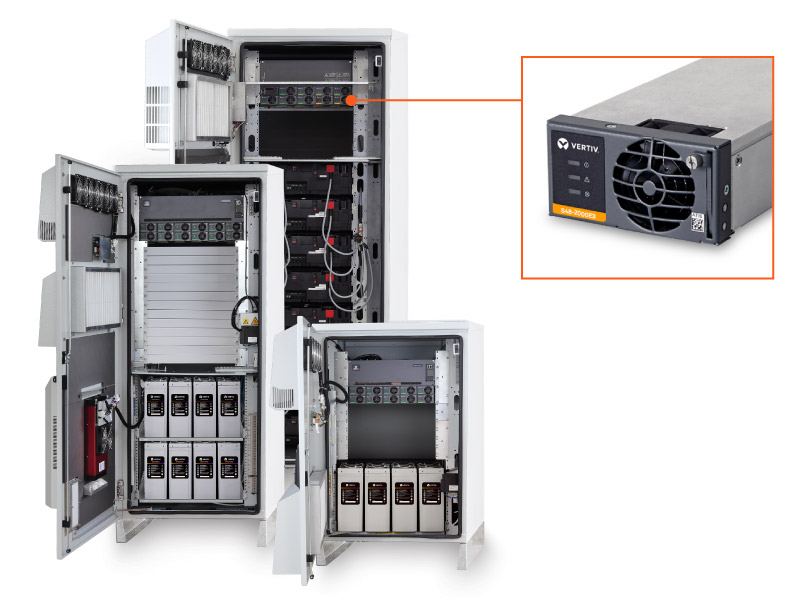 Alternative Energy
Vertiv solutions can enable operators to harness energy from alternative sources, such as solar and wind. This includes our Vertiv™ eSure™ solar converter that connects solar panels to -48V DC power loads used in telecommunications networks. It also includes the latest Vertiv™ NetSure™ M Series outdoor enclosure, a solution designed to support 5G and edge networks, that enable constant power including battery backup, temperature, and humidity control, and allows the use of solar panels and other energy sources. We also design and manufacture converters, which are key components utilized in solar and wind applications to harness energy.
For telecom cell sites, we offer solar energy solutions that can be used as the primary power source for remote facilities off the power grid and as supplemental energy sources for those that are connected to the grid. Our high efficiency rectifiers help telecom carriers save on energy and reduce the emissions associated with energy production.
Evaluating the Potential for Fuel Cells for Data Center Power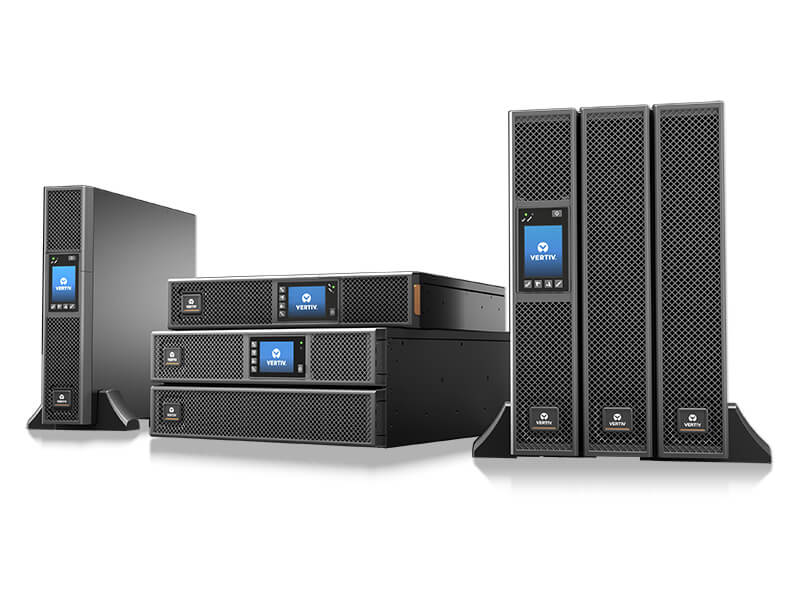 Circular Economy
When UPS units reach the end of their useful life, relying on them to support critical infrastructure becomes increasingly risky. We introduced the Vertiv Trade-in Program in the United States to help mitigate this risk for our customers, which allows them to upgrade their legacy single-phase UPS systems at a reduced cost and responsibly dispose and recycle such units. In compliance with the Recycling Industry Operating Standard (RIOS), Vertiv facilitates the shipment of returned equipment to an R2:2013-certified recycler at no cost to our customers. We also have worked with a lifecycle assessment (LCA) consultant to conduct an LCA on a Vertiv DC power product. This pilot LCA provided the insights needed to implement resources, processes, and protocols to enhance capabilities in an effort to complete further studies across product lines.
Partnering for Progress
Vertiv believes in collaborating with customers, peers, and other industry leaders on environmental matters regarding critical digital infrastructure. Therefore, we participate in a number of initiatives seeking to reduce the environmental impact of our industry. Examples of these efforts include: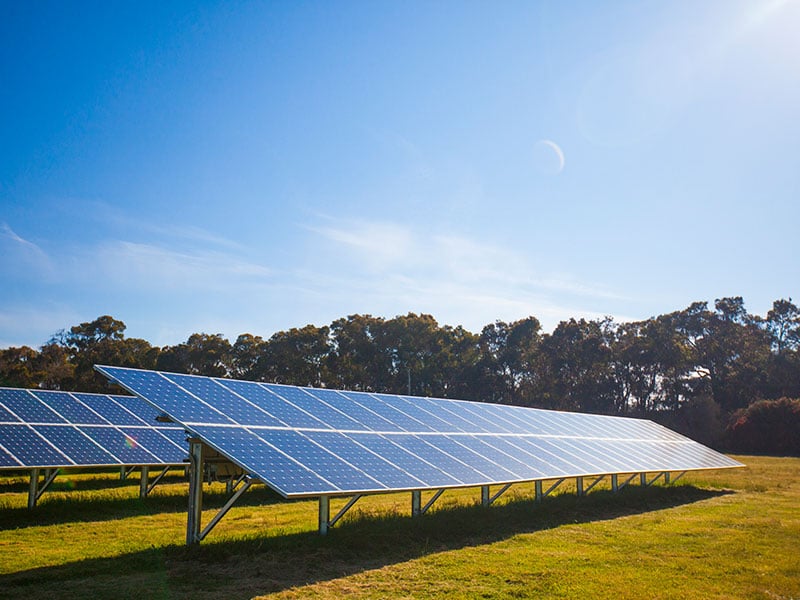 Responsible Operations
Vertiv strives to conserve energy and minimize our carbon and waste footprint by working to improve the efficiency of our products, facilities and processes.
Vertiv leadership believes that adopting environmental standards in our operations is in the interest of our employees, customers, shareholders and the communities in which we operate.
As part of our goal of continuous improvement, Vertiv leverages our Vertiv Operating System (VOS) as an enterprise-wide approach to train employees on and hold them accountable for identifying and eliminating waste in our production processes.
Operational Efficiency
In 2022, we advanced tracking and monitoring of our key environmental impacts by partnering with an environmental consultant to streamline processes to gather environmental impact metrics, including greenhouse gas (GHG) emissions, energy use, water consumption, and waste generation and recycling. This partnership lends additional credibility to our reporting by confirming a high level of data integrity and continuity in process. Based on this analysis, we are evaluating and developing action plans to reduce our Scope 1 and 2 GHG emissions, as well as other key environmental impacts.
In 2022, we implemented a number of energy- and carbon-efficiency projects across our global operations:
The Vertiv Mianyang facility in China earned the "Green Plant" title by the Sichuan provincial government for its sustainability efforts, including its emphasis on efficiency and recyclability.
Our Delaware, Ohio, facility in North America is installing an on-site solar field as part of a larger microgrid demonstration initiative that will help build local power resiliency and enable our efforts to develop the next generation of energy efficient products and systems.
In India, we installed 700 kilovolt-amps (kVA) of regenerative loads, which recycles output power into usable energy, increasing the energy efficiency of our operations.
Across EMEA, several Vertiv factories purchased renewable energy for operations, with more planned to follow suit in future years.
Our E+I Engineering facility in Ireland installed a system that recycles and reuses all process water in manufacturing, reducing the overall water consumption of the site.
We successfully piloted the use of hybrid vehicles in our service fleet in EMEA and North America and plan to expand the program.
Environmental Management
Vertiv employs environmental management systems at our manufacturing facilities across our worldwide footprint.
We have developed these systems in alignment with globally recognized standards from ISO, the International Organization for Standardization, and we are working toward achieving ISO certification for all our significant sites and business units.
Many of our sites have achieved the ISO 14001 certification, the leading credential for responsible administration of an environmental management system. In 2022, we determined relevant certifications for each site and created a roadmap that prioritized certification at key locations. As of December 31, 2022, 63% of Vertiv's eligible locations carry the ISO 14001 credential.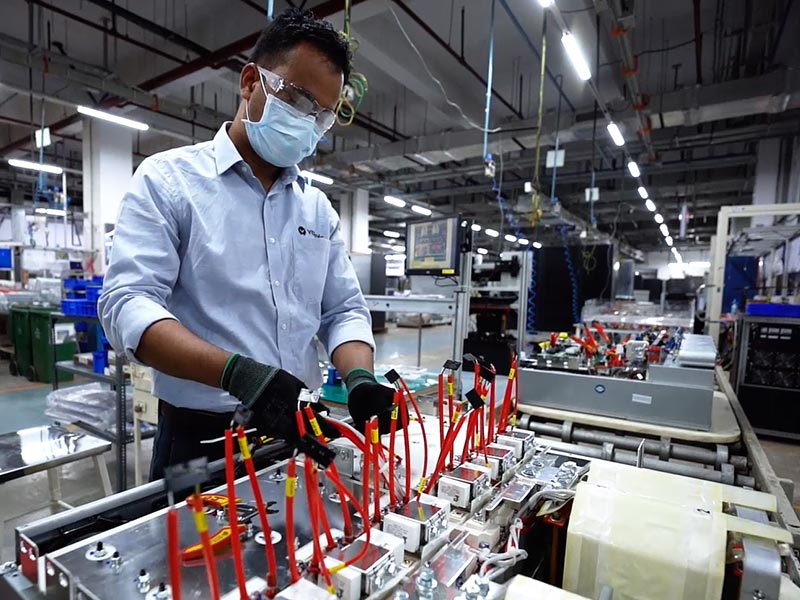 ---