Product Model
Avocent LV 4010P KVM Extender
Saved This Product to Your Dashboard
You just saved this product to your dashboard to view at a later time. You can easily remove the item from your dashboard when you no longer wish to have it saved.
Please login or create an account to save this for later
Best Suited For:
Banking, Financial and Insurance
Warranty: 2 years, extended warranties available
Product Model
Avocent LV 4010P KVM Extender
Best Suited For:
Banking, Financial and Insurance
Warranty: 2 years, extended warranties available
Features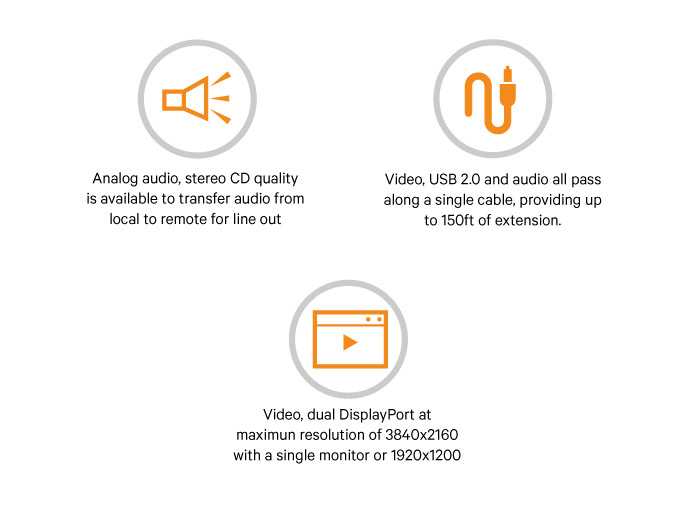 Digital Extension Technology - Video, USB 2.0 (Low and Full speed) and audio all pass along a single cable, providing up to 50 me-ters of extension.
USB Powered Transmitter - The transmitter is powered via its USB port to reduce the need for external power supplies. There is an option for an external power supply if the USB port has insufficient power.
Digital Video - Supports DVI-D (HDMI with adapter) video on single or dual screens, with resolutions up to 1920 x 1200 @ 60Hz
Plug and Play - The LV 4000 series extenders are delivered in a zero configuration state so you can plug them in and start working immediately. There's no need for additional drivers or software.
USB Support - USB 2.0 support for any USB human interface device from mice and keyboards to graphics tablets,touchscreens, jog shuttles,joysticks, 3D explorers andmass storage devices. Full speed (12Mbps) isochronous devices such as headsets are also supported.
The LV4000 Series extenders use an uncompressed system whereby every pixel of every frame is sent without loss. DVI-D digital video is supported at up to 1920x1200 on single or dual monitors. HDMI video and audio can be extended with the correct adapter cable, although HDCP and CEC are not supported. The LV 4000 also supports a comprehensive range of peripherals including graphics tablets, touchscreens, jog shuttles, joysticks, 3D explorers, CD audio, USB mass storage, keyboard and mouse and other USB devices.
*To see model-specific downloads, you will need to go to the model-specific product page by selecting the model name in the specifications chart above.
Find Your Area Contact
Products Support Contacts
USA
51
20149
Showing contacts for

Virginia,

20149,

USA
Change
Vertiv Technical Support for IT Management & Software (Trellis & Avocent products)
Mon-Fri 9:00 a.m. to 5:30 p.m.
Alabama
USA
Product areas of focus:
Desktop KVM and KM, IP KVM, Secure KVM, Serial Consoles and Gateways, Digital Infrastructure Solutions