Rack Power Distribution Units (rPDUs) are the last link in the power chain and ensure delivery of critical power to IT loads. The rPDU is designed to distribute power to all types of IT equipment within the data center.
The rPDU does not generate power but rather distributes power from the power source available. In a typical data center environment, the rPDU is connected to an upstream Power Distribution Unit (PDU) commonly referred to as a floor PDU. The floor PDU distributes power from the utility during normal operation. During an outage, an uninterruptible power supply (UPS) picks up the power load while the generator ramps up to begin providing power to the facility. The floor PDU is similar to the circuit breaker panel in your home and breaks down the available power into circuits so electricity can be distributed throughout the facility. The generator is used for redundancy in case utility power is lost. Power is distributed through the facility from the floor PDU, and the rPDU is connected downstream. The rPDU then distributes power to the IT equipment in each individual cabinet and rack.
The rPDU is capable of monitoring, managing, and controlling power consumption to multiple devices in data center environments. It can distribute large amounts of electricity and can be accessed over the local network or remotely. To meet the ever-changing needs of the data center, rPDUs can accommodate higher power densities and are resistant to higher temperatures. To avoid compromising basic power distribution, some rPDUs are easily upgradeable and serviceable without the need to remove power from the connected devices. These features minimize downtime and carry manufacturer-provided support to meet Service-Level Agreements (SLAs).
Why is a Rack PDU important?
As data center environments become more dynamic and complex, many organizations are putting pressure on data center managers to improve availability while reducing costs and boosting efficiency. Next generation high density servers and networking equipment have increased the demand for higher rack densities and overall facility power requirements. While densities under 10kW per rack remain the norm, deployments at 15kW are typical in hyperscale facilities – and some are even nearing 25kW. High density configurations provide improved levels of performance and capacity, but this creates the need for more effective power delivery. As a result, the features and functionality available on an rPDU become increasingly more important to achieve efficient power distribution to respond to changes in data center capacities and densities.
Selecting a Rack PDU
When selecting your rPDU, begin with these basic questions:
What are your power requirements?
Do you want to mount your rPDU vertically or horizontally?
What level of power monitoring or management do you require?
Power Requirements
The most important question when selecting an rPDU is determining the power requirements needed for the critical IT equipment that will be connected. Depending on the data center, the data center manager may be limited to the power available. While in other situations, the data center manager may be able to dictate what power is delivered to the rack. If the data center manager has the ability to decide the power available, he or she should determine the approximate kW needed for the equipment that is or will be deployed. The power needed will provide the minimum power required for the equipment in the rack allowing the data center manager to appropriately determine the rPDU power configuration needed. The data center manager will then be able to have an electrician pull the necessary power with the appropriate receptacle to the rack that matches the rPDU.
On the other hand, if the data center manager is restricted to the power that is already available, he or she will need to identify the receptacle type the rPDU will need to plug into. Depending on the power available, the cabinet density could be limited or additional rPDUs will need to be deployed in the same cabinet to reach the power capacity required for the deployed equipment.
Power Configurations
There are numerous rPDU power configuration options and what is available will differ depending on the global region the units will be installed. Different amperages and voltages as well as single-phase and three-phase power options are available. Data centers could have single-phase or three-phase power distributed throughout the facility. Single-phase power is more commonly used in homes and small businesses but can also be distributed in data centers from a three-phase power source. Many high-density data centers distribute three-phase power throughout the data center as it is more efficient and supports higher densities.
Determining what is best depends on the power available and power needs of the equipment connected. The rPDU is available with different power (100V single-phase to 240/415V three-phase) and current rating (10A to 120A) options.
Horizontal Mount vs Vertical Mount
Rack PDUs are mounted horizontally or vertically, inside or outside the rack enclosure. Horizontal rPDUs are installed inside the rack and take up space, typically 1U or 2U rack space and have 8-16 outlets. The vertical mounted rPDUs can hold up to 54 outlets. They are installed at the back or side of the rack enclosure so they do not take up critical equipment mounting space inside the rack. Understanding your data center space and IT equipment before selecting the mounting option for the rPDU can help save cost, time and space.
Types of Rack PDUs
An rPDU can be classified as basic, metered, monitored, or switched. At the core, the rPDU offers reliable power distribution at the rack while more intelligent rPDUs add remote monitoring capabilities, energy management, and future proof design platforms.
Basic Rack PDU


Basic rPDUs provide reliable power distribution to critical IT equipment within a rack or cabinet. They are entry-level solutions that are low cost. They meet a broad range of requirements with different electrical and receptacle configurations available. They should have regional compliance (i.e. UL in North America and CE in EMEA), which is a requirement for many data centers and insurance providers.
Learn more about Vertiv Basic Rack PDUs

Metered Rack PDU

Metered rPDUs allow data center managers to view power consumption metrics instantly from a local display. This is ideal when deploying or moving equipment to monitor power usage and prevent overloads. Metered rPDUs are best suited for highly secure data center environments that must keep power infrastructure air-gapped from the local network.

Monitored Rack PDU

Monitored rPDUs provide a comprehensive view of power usage, both at the rack and via remote access while continuing to provide reliable power distribution to critical IT equipment. Monitored rPDUs are available in unit-level and outlet-level remote monitoring configuration options. They offer quick access to critical information to evaluate energy usage trends as well as provide alarming capabilities to alert users of breaches in user-defined power thresholds. They are recommended for high-density data centers that want to monitor or improve power usage effectiveness (PUE).
Learn more about Vertiv Monitored Rack PDUs

Switched Rack PDU

Switched rPDUs provide a comprehensive view of critical IT equipment power usage, both at the rack and via remote access with the added ability to remotely turn on, turn off, or reboot power at each outlet. Switched rPDUs are also available with unit-level and outlet-level remote monitoring configuration options. Switched rPDUs are ideal for data centers needing to limit power usage at the outlet to avoid accidental overloads as well as remote data centers. They are extremely useful for data centers that require a quick and easy way to power cycle equipment in a large facility or, in some cases, an entire network of facilities.


Learn more about Vertiv Switched Rack PDUs
Common Features of a Rack PDU
The primary function of an rPDU is to ensure critical power is delivered to IT equipment. Today's intelligent and adaptive rPDUs have gone beyond power distribution, offering features to enhance business agility, efficiency and availability. When selecting the rPDU, these key features should be considered:
Alternating Outlets

As rack densities increase, cable management and load balancing become a challenge. If loads are not properly balanced across circuits and phases, data center managers risk overloading circuits or stranding power. To simplify circuit/phase balancing and cable management rPDU manufactures offer color coded alternating outlets that significantly streamline the deployment process.

Locking Outlets

Outlet locking mechanisms secure the physical connection between the IT equipment and the rPDU to ensure power cords are not accidently pulled out of the outlet, causing an inadvertent load drop. Globally, the most common standard for outlets used in rPDUs are the IEC320 C13 and C19. IEC receptacles are internationally acceptable and handle output voltages up to 250V. There are a number of options ranging from retention to locking outlets available on the market.

Small Footprint
As space in the rack becomes increasingly scarce, the rPDU should be compact so it can be installed in tight spaces. Depending on the power configuration, a vertical rPDU can be as small as 2in (51mm) wide by 2in (51mm) deep.


Fault-Tolerant Daisy Chaining

Accessing power and environmental information remotely from an intelligent rPDU requires connection to a network. Intelligent rPDUs with the fault-tolerant daisy chaining functionality not only simplify rPDU connectivity but ensure data is reported even when a break in the network chain occurs.
IP Aggregation
IP addresses and switch ports are increasingly expensive, so data center managers can reduce the cost of deploying intelligent rPDUs by utilizing units with IP aggregation capabilities. If concerned about deployment costs, it is important to research manufacturer limitations as the number of units that can be aggregated on a single IP address vary from 2 to up to 50 devices. Other features included with IP aggregation such as self-configuration of downstream devices can also significantly reduce deployment time and costs.
Environmental Monitoring

IT equipment is susceptible to environmental conditions such as heat and moisture. Intelligent rPDUs have the ability to incorporate environmental sensors to proactively monitor environmental conditions within the rack to ensure optimal operating conditions without the need to deploy a separate monitoring solution. Remote Connectivity

Intelligent rPDUs also provide data center managers with the ability to access the rPDU remotely through the network interface or serial connection to monitor power consumption and configure user-defined alert notifications to prevent downtime.

Out-of-Band Communication
If the primary network to the rPDU goes down, some rPDUs provide redundant communications through integration with out of band management devices, such as serial consoles or KVM switches.
DCIM Access
There are a wide variety of DCIM solutions on the market that can provide users with a single access point to view real-time power and environmental data. DCIM also provides the ability to create and receive trend reports that provide visibility of the entire facility to help data center managers improve efficiency and availability.

Future-Proof Design
Data center managers with upgradable basic rack PDUs and intelligent rack PDUs can update their hot-swappable monitoring device easily to leverage new technologies and accommodate changing business needs without having to replace entire power strips or interrupt power to critical servers.
Learn more about Considerations For Highly Available Intelligent Rack PDUs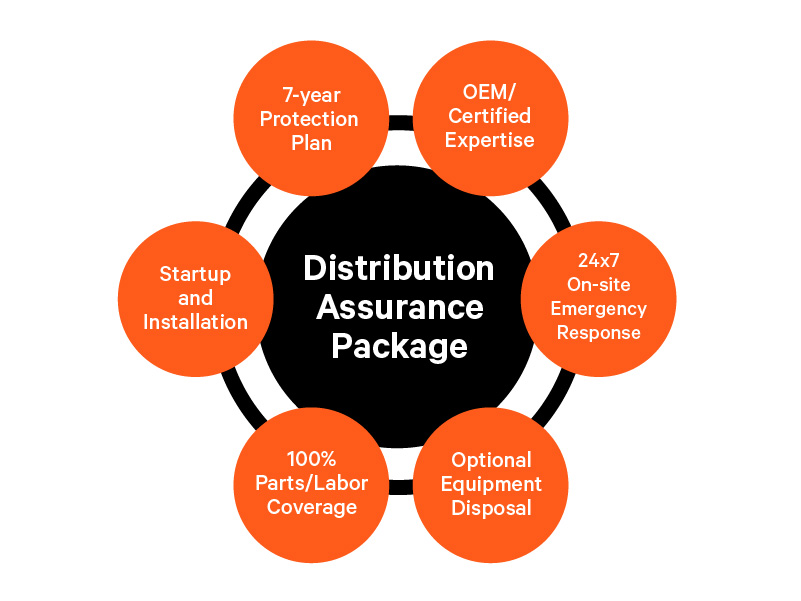 In order to optimize IT resources, organizations can benefit from the services offered by the Original Equipment Manufacturer (OEM) of the rPDU to simplify deployment and management of critical power system assets.
Services include:
Startup and installation
Optional removal and disposal
Extended protection plans
Comprehensive reports
On-site support and emergency response
OEM service partners can handle rPDU installation and startup. While IT personnel can attend to other tasks, companies have the convenience and assurance that OEM experts managed the setup correctly from the beginning. These technicians can also handle the removal and disposal of old rPDUs.
Some vendors provide as much as a 5-year protection plan to support the life cycle of rPDUs. They can also provide on-demand access to service histories and comprehensive reports useful in simplifying management of rPDUs under contract. There are 24x7 on-site emergency response services to ensure maximum availability of critical applications.
LEARN ABOUT VERTIV'S RPDU SERVICES
With today's data centers having 24/7 critical systems, organizations put sizable investments to each component of the power chain—from the facility entrance to the rack PDUs— to enable continuous equipment availability. With the understanding of their environment, power needs, growth plans and services at their disposal, organizations are better equipped to find the right high availability solutions, in terms of infrastructure and equipment.
Next Level Rack Power Distribution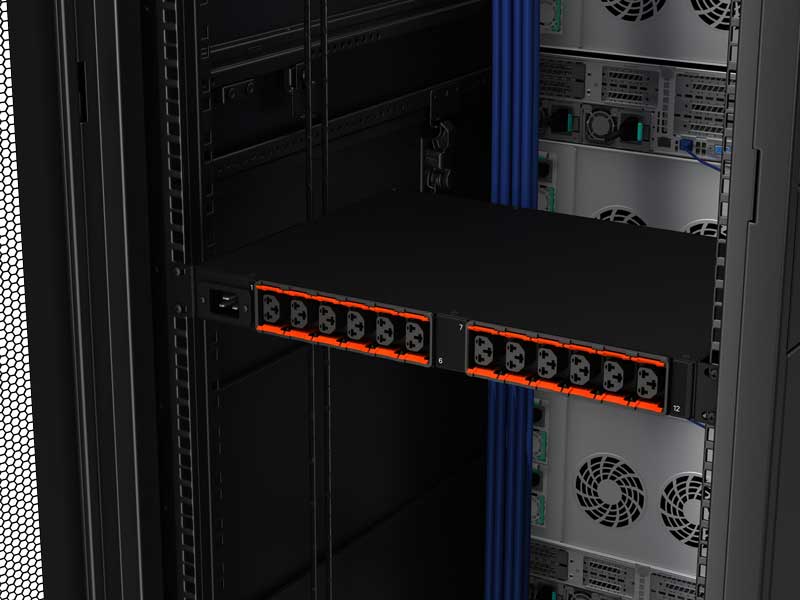 Related Products & Services
---