Monitor All of Your Customers' Physical Infrastructure Through The Cloud
Vertiv introduces Vertiv™ Environet™ Connect, which features a vendor-neutral network infrastructure monitoring platform that provides real-time visibility into network infrastructure equipment, including UPSs, PDUs, sensors, and other SNMP devices. Provide an extended level of service and support as a valued Vertiv™ Managed Service Provider (MSP). Realize a recurring revenue stream that will grow your business and increase profitability.
Find out how you can take part in Vertiv™ Environet™ Connect today by filling out your contact information below. Enrollment in the Vertiv Reseller program is required.
Download Information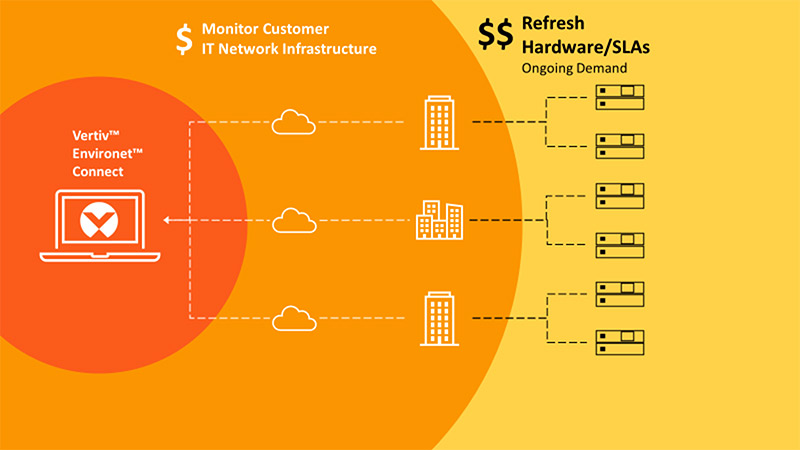 Ideal for active Vertiv partner resellers who want to create recurring revenue and serve as a valued partner to their customers.
Valuable Tools at Your Disposal
Vertiv™ Environet™ Connect offers a simple and intuitive cloud-based user interface that enables remote monitoring and analytics for multiple customers and locations, all from a single dashboard. Customer and asset groups empower you to manage and resolve customer issues efficiently. Key capabilities include:
Proactive Management
Proactively manage alarms and alerts, allowing you to identify potential issues and recommend solutions to improve your customers' performance, increase energy savings and prevent costly equipment failures and/or network downtime.
Asset management
Seamlessly collect, organize and visualize the information you need to manage your customers' assets, power connections, thermal conditions and space. Receive and address alerts on issues such as capacity limits, end-of-life systems, environmental and electrical conditions and unauthorized room or rack access.
Device auto-discovery
Auto-discover and manage all your customers' SNMP devices, so that you can recommend proactive actions to drive performance, throughput and more. Save hundreds of hours uploading device information to your systems. Avoid issues, such as hotspots or device failures, due to unknown and unmanaged equipment.
How Becoming an MSP Benefits You
When you sign up you gain powerful new capabilities and insight that can be used for lead generation. Generate new revenue streams and cost saving measures, including but not limited to:
Recurring revenues: Charge a monthly fee to monitor your customers' infrastructure equipment.
Lead generation: Identify new opportunities to solve customer challenges and drive hardware sales, including new racks, uninterruptible power supplies (UPSs), rack PDUs, and other devices. Using the asset management capabilities, seamlessly monitor equipment lifecycles to ensure assets are documented, tracked, and visible to manage their replacements proactively.
Fewer truck rolls: Troubleshoot issues remotely, reducing or eliminating the need for diagnostics-only service calls.
Greater productivity: Use online dashboards and analytics to connect IT and infrastructure teams for fast, effective troubleshooting and issue resolution.
Customer service: Maintain higher levels of service quality with greater visibility, proactive issue identification and faster resolution.
Organizational efficiency: Use the online dashboard to monitor customer devices, identifying and addressing capacity limits before they affect your customers' business.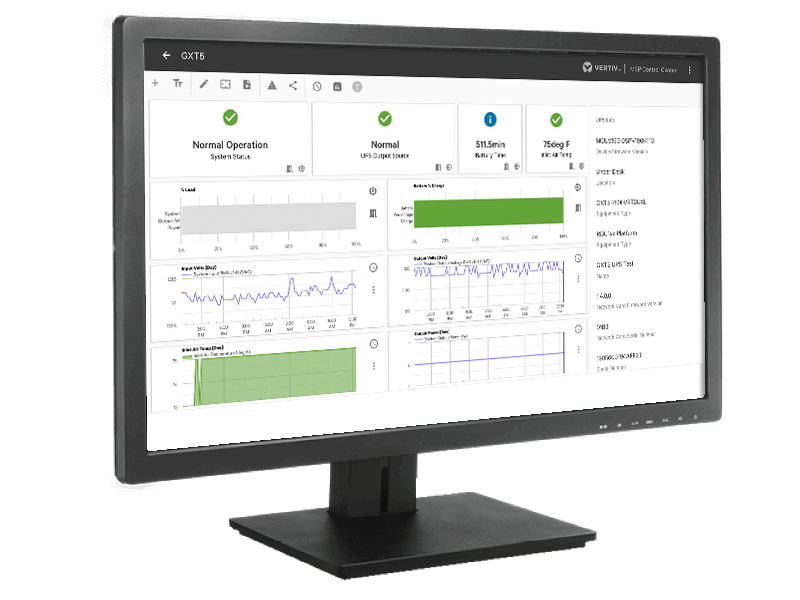 Create profitable new revenue streams with Vertiv™ remote monitoring services, without the need to hire new staff or make CapEx investments.
To find out more information on Vertiv™ Environet™ Connect offerings, please fill out the form below.
Thank you for your submission!
We will contact you shortly.
---