null
×
Cookies Settings
These cookies are essential to ensure the correct functioning of the website, to allow you to register/login and access reserved features, and to allow us to monitor the security of the website and improve operating performance, for example, by storing your preferences to enhance your subsequent visits.
These cookies allow us to collect and analyze traffic and use of the website on an anonymous basis and to understand and improve how visitors use the website, including which pages and products are viewed most frequently. These cookies are not strictly necessary for the website to work but will provide you a better browsing experience.
These cookies allow us to track your navigation of the website to create profiles of your tastes, habits, choices, etc., to send you promotional messages targeted to your preferences. Refusal of these cookies will not affect the proper functioning of the website but will prevent us from being able to send your promotional messages targeted to your preferences.
x
By clicking "Accept All", you agree to the storing of cookies on your device to enhance site navigation, analyze site usage, and assist in our marketing efforts.

Home
Get Your Technology Infrastructure Ready for 2023
Get Your Technology Infrastructure
Ready for 2023
Ensure the integrity of your Finance infrastructure with a Vertiv Site Assessment
CONTACT US TO LEARN MORE
In preparation for the new year, now is the time to evaluate the reliability of your technology infrastructure and network availability. From your data center to the network edge, we can help you ensure consistent delivery of your financial data and services.
How can you validate the integrity of your technology infrastructure?
Let Vertiv conduct a no-cost survey of your critical technology infrastructure that includes an on-site walkthrough to assess your:
UPS, power generation, and cooling capacity, health, and redundancy
Rack configuration and airflow
Room survey for energy efficiency
Monitoring Tools and potential points of failure
Vertiv Site Assessment Output and Outcomes
Your local Vertiv representative will make recommendations on best practices for:
Power
Cooling
Rack PDUs
Monitoring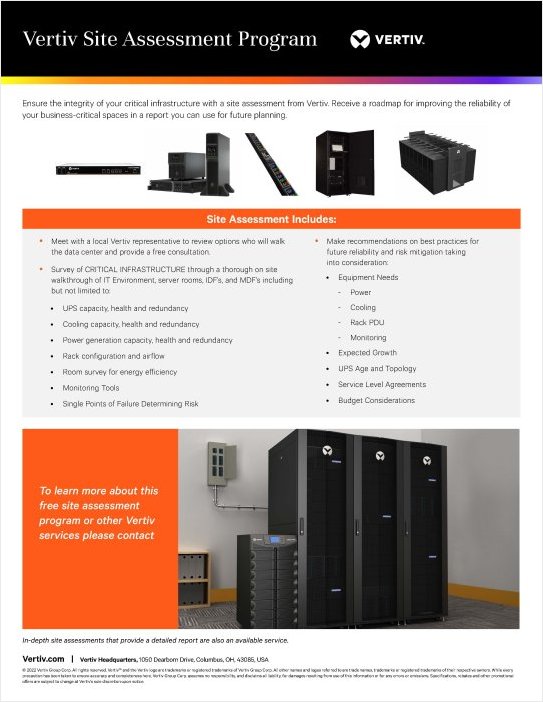 Rely on Vertiv to help you prepare for 2023
Now is the perfect time for you to assess your readiness to preserve uptime and ensure power protection across your entire finance infrastructure.
To speak with a representative about the Vertiv Site Assessment Program or other Vertiv services, please contact us at (800) 543-2378.
---
Never miss an offer
Join our mailing list to receive the latest product news and industry updates from Vertiv.